Harold's Going Stiff
(2013)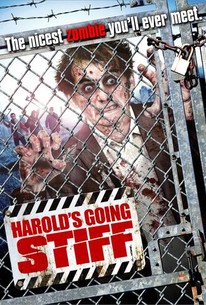 Harold's Going Stiff Photos
Movie Info
Harold is suffering from a frightening new disease that is turning him into a zombie. After an experimental new treatment fails, Harold's condition deteriorates and he ends up on the run from a group of violent vigilantes who are out for blood.
Critic Reviews for Harold's Going Stiff
Audience Reviews for Harold's Going Stiff
This is a pretty good movie all things considered. And by that, I mean its rather minuscule budget, which is really noticeable during the last climactic "fight" between Harold and No. 7, or Randy the Ram as I nicknamed him, where the fight just looks absolutely awful and poorly shot. The film definitely has some very dark humor but, at its core, it's actually got a very sweet story of the relationship between Harold and Penny, which was actually a legitimately sweet and touching. Both are completely removed from "society". Harold's is self-imposed, as the first sufferer of Onset Rigors Disease, or ORD, which causes a stiffness in the limbs and it causes those who are affected to act like zombies. Harold, who's the only known person to not suffer the full effects of the disease, removes himself from society so as to not make himself a target to vigilantes, who want to hunt him down and kill him in order to "protect" the community. And Penny's is also self-imposed as, in her own view, her weight has been an issue for her finding someone to settle down with. The film sees them come together and bring out the best in each other and, again, their relationship with each other is genuinely sweet and it helps that the leads have great chemistry with each other. Sarah Spencer is actually really good, and I'm quite surprised I haven't seen more of her because she's very talented. Stan Rowe isn't as good as Sarah, but he's still quite good as Harold. The film also focuses on the societal effect of those who're suffering with ORD, only older men are affected, and how the vigilantes sort of view those with ORD with contempt and hatred. These people aren't, technically, zombies as they are still alive. These are people with a disease, a disease that needs to be studied to find out if there is a cure. These vigilantes don't realize that, they're looking at this disease in a complete black and white way, rather than as something that's a very complex issue. In reality, the film is also very much about the inhumanity of these vigilantes and not those with the disease itself. The film is very smart, though because of its budgetary limitations they can only focus on a smaller town rather than the effects of it instead of the effects of it on a countrywide basis. But I can't complain really, that's just a problem with the funding the film received and not with anything inside the actual film itself. But I quite liked this movie. It's got a good story with some social commentary and a damn good cast.
Jesse Ortega
Super Reviewer
Harold's Going Stiff Quotes
There are no approved quotes yet for this movie.