Ha-Sodot (The Secrets)
(2007)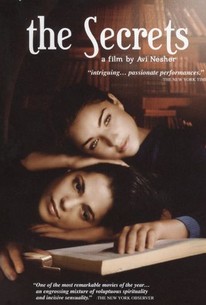 Ha-Sodot (The Secrets) Photos
Movie Info
Within the Orthodox Jewish Community, the attitudes toward females have remained virtually unchanged for 2,000 years. In this religious-themed drama, accomplished Israeli filmmaker Avi Nesher explores the complications that arise when the relationships between a group of women residing in a midrasha (all female seminary) in Safed turn suddenly volatile. Every girl has a different motivation for enrolling in the midrasha: for Naomi (Ania Bukstein) enrollment in the seminary meant avoiding a marriage that she didn't want, and for the rebellious Michelle (Michal Shtamler) it was simply an effective means for her parents to keep her out of serious trouble. Unlikely allies at first, Naomi and Michelle soon forge a powerful bond that is later threatened by the ailing Anouk (Fanny Ardant). Anouk is a much older woman who has come to Safed in search of redemption. Despite her outward sincerity, however, Anouk is quickly turned away by the powers that be. Realizing that the brilliant Naomi can certainly find the kabbalistic texts that could restore Anouk's purity, compassionate Michelle volunteers her scholarly friend to help the desperate woman in her time of need. While her initial hesitation is soon compounded by the fact that the head mistress forbids both students from any further contact with the mysterious Anouk, Naomi selflessly vows to expunge the sins of Anouk's past even if it means putting her own future at risk.
Critic Reviews for Ha-Sodot (The Secrets)
Audience Reviews for Ha-Sodot (The Secrets)
This Movie carries many names The Secrets, Ha-Sodot, Emeth,or Los secretos. Its one of the most outstanding movies I've seen this year. Follows the life of 2 young Jewish girls as they are sent to a Jewish seminary for women in the ancient Kabalistic seat of Safed, During there time there one meets a man whom she is fond of while falling in love with her roommate, at the same time they try to save and prepare a dying women for heaven, all under traditional Jewish Law, Stellar performances. This movie won many awards at the 2007 Awards of the Israeli Film Academy . 5 stars
Bruce Bruce
Super Reviewer
½
In "The Secrets," Naomi(Ania Bukstein) wants some time, following the death of her mother, to think, so she postpones her wedding to Michael(Guri Alfi) and travels to the Truth and Knowing Seminary in Safed to study. On the way there, she meets fellow student Sheine(Talli Oren). Sigi(Dana Ivgy) may have little idea how to act in such sacred quarters but that is nothing compared to Michelle(Michal Shtamler) who bristles at the seminary's commitment to a soup kitchen where she starts a water fight. While model student Naomi does not get along with her, she does need her to translate when they bring food to Anouk(Fanny Ardant) who is dying. To its credit, "The Secrets" handles its exploration of provocative subject matter, set in the world of Orhodox Judaism in Israel, with a good deal of sensitivity. As unpredictable as the movie is, there is also an occasional lack of logic in the plot twists. The secrets of the title go beyond those the female characters may be hiding to those that are being kept from them by the men in the sacred texts that they are discouraged from seriously studying and instead encouraged towards marrying and raising a family. What the movie does encourage all to do is to forgive, no matter the sin or the beliefs involved.
½
Touching, multi-faceted film with fantastic performances by amazingly impressive (and beautiful) actresses. Sometimes too many issues are cramped into one film, and occassionaly the melodrama is a bit over the top, but overall a great film.
Ha-Sodot (The Secrets) Quotes
There are no approved quotes yet for this movie.