Hei tai yang 731 (Men Behind the Sun) (Squadron 731)
(1988)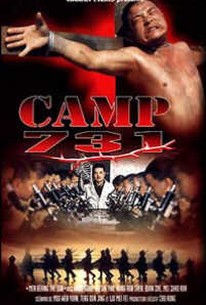 AUDIENCE SCORE
Critic Consensus: No consensus yet.
Movie Info
As World War II draws to a close, Japanese army officers are cooking up biological weapons to deploy as a last-ditch effort. They test their prototypes on Chinese and Russian war prisoners at an underground facility called Squadron 731, conducting horrific experiments. A gory Chinese polemic, considered a cult classic for its sheer shock value.
Critic Reviews for Hei tai yang 731 (Men Behind the Sun) (Squadron 731)
There are no critic reviews yet for Hei tai yang 731 (Men Behind the Sun) (Squadron 731). Keep checking Rotten Tomatoes for updates!
Audience Reviews for Hei tai yang 731 (Men Behind the Sun) (Squadron 731)
½
Men Behind the Sun is a disturbing ride into madness. The film examines the true story of Unit 731, a covert biological research unit, used by Imperial Japan during the Second World War. Although hard to watch, this is a necessary film that shows the unflinching truth of Japanese War atrocities. It's hard for me to really give this film top marks due to its subject, but one thing I can do is say that the film is quite accurate in terms of portraying the horror that happened at Unit 731. This is a film that plays on the controversy and it does lack good performances. In fact, there isn't any. All we have here is a film that relies on horrifying images to try and tell its unflinching story. In that, way it succeeds. Is this a bad movie? No, it isn't, but it's not a very good one either. I think that despite, it's a necessary viewing due to the fact that events portrayed in the film really happened and are accurate. We must learn from the past and make sure that such acts of barbarity never happen again. This is not a film for anyone with a weak stomach, and it is a hard film to watch due to its extreme content. Is an awful movie, no it isn't, but it's simply a decent one, and one that could have been done much better as well. Despite it does a good job at showing us what happened at Unit 731, and it is an unforgettable viewing experience into madness. Watching a documentary on Unit 731 would be your best bet if you don't have the stomach for such a film like this.
½
I had seen this movie on so many "Most Disturbing" lists that I thought, being that way inclined, that it was worth a look in. Much like "August Underground" and "Necromantik" which also appeared on very similar lists, I was not as shocked as I felt I should have been. Maybe my generation has become desensitised to these kind of themes but I thought it was adequatly revolting but also deeply thoughtful. The real horror in this movie is not the many gut wrenching scenes of abject threat but the underlying tone of realism that really sticks it in and breaks it off. Not the most disturbing movie I have seen by a long shot but certainly beats the shit out of some more recent movies that have been dubbed as such.
Unknown Hobo
Super Reviewer
Admittedly I only decided to see this for the gore, but I didn't expect to enjoy the film as much as I did. I really enjoyed the fly-on-the-wall documentary style approach the film is shot in... made it seem all the more real. Of course the gore is present a number of times but it's not relentless and every 5 minutes. It is graphic, shocking and a bit moving too. Recommended, but it's very grim. Be warned.
Hei tai yang 731 (Men Behind the Sun) (Squadron 731) Quotes
There are no approved quotes yet for this movie.