Hellboy
(2004)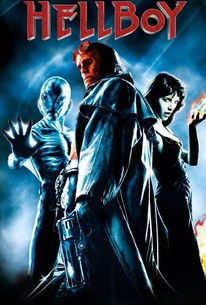 TOMATOMETER
AUDIENCE SCORE
Critic Consensus: With wit, humor and Guillermo del Toro's fantastic visuals, the entertaining Hellboy transcends the derivative nature of the genre.
Movie Info
Mike Mignola's acclaimed comic book series about a creature from Hades who joins the battle against evil arrives on the screen in vivid form in this adaptation directed by distinctive horror filmmaker Guillermo del Toro. During World War II, the Third Reich has joined forces with the evil Grigori Rasputin (Karel Roden), who has used his occult powers to summon up a young demon from the depth of Hell to be used as the ultimate Axis weapon. However, the demonic creature is captured by American forces, and put in the care of Professor Broom (John Hurt), the founder of a top-secret organization called the Bureau for Paranormal Research and Defense. Under Broom's tutelage, the creature develops empathy and a desire to do good while his physical powers and paranormal talents are honed to a fine point. Sixty years later, the demon, now known as Hellboy (Ron Perlman), is part of an elite secret defense team alongside Liz Sherman (Selma Blair), a beautiful young woman who can create fire with her mind, and Abe Sapian (Doug Jones), an aquatic humanoid with the power of telepathy. Despite his many years of fighting for right, Hellboy finds himself facing his greatest challenge when the powerful Rasputin returns, determined to bring the demon back to the forces of darkness so that evil may finally rule the world. Hellboy's supporting cast also includes Jeffrey Tambor, Rupert Evans, and Brian Steele. ~ Mark Deming, Rovi
News & Interviews for Hellboy
Critic Reviews for Hellboy
Audience Reviews for Hellboy
½
"In the absence of light, darkness prevails. There are things that go bump in the night, Agent Myers. Make no mistake about that. And we are the ones who bump back." A demon, raised from infancy after being conjured by and rescued from the Nazis, grows up to become a defender against the forces of darkness.
REVIEW
Based on the works of Mike Mignola, "Hellboy," written and directed by Guillermo Del Toro, is a better-than-average comic book adaptation that boasts a refreshing sense of humor amid all the customary action sequences and first-rate special effects. The story begins in 1944, near the end of World War II, with the Nazis attempting to open a portal between earth and a hell-like dimension where seven evil deities have been lying in wait for just such an opportunity to come in and take over the world. One creature from the other side makes it through before the Nazis' scheme is thwarted, a young "boy" who is adopted by an American expert in the paranormal and groomed to become a superhero who can do battle with all the supernatural creatures who apparently exist in an abundance undreamed of by the vast majority of the human race. The makers of the film have wisely chosen to keep Hellboy life-sized and believable in both his physical and psychological dimensions. Despite his red skin, stone right hand and ability to leap from rooftop to rooftop with gravity-defying ease, Hellboy is really just an Average Joe-type, with a bit of an ego, a sardonic sense of humor, a strong sense of loyalty, and a really good heart. Heck, he even has problems in the romance department not much different from what all the rest of us go through at one time or another in our lives. The movie is overlong and the screenplay probably includes one or two monsters more than it needs to in order to get the job done, but Ron Perlman, even under all the heavy makeup, makes Hellboy a three-dimensional, sympathetic character, while John Hurt brings warmth and authority to the role of Professor Bruttenholm, the "father figure" who raises him.
Lorenzo von Matterhorn
Super Reviewer
½
Hellboy is a memorable character that brings humour to the overdose of action sequences in the film. I dont like super hero films that make an overdose of explosions but it did have some witty moments that helped me enjoy the film.
Directors Cat
Super Reviewer
½
Decent Superhero/action film, Hellboy is a flawed, but nonetheless thrilling ride. Starring Ron Perlman (Whom I don't like, Hellboy does deliver some decent action, but is never anything spectacular. I felt disappointed in this film, and the film had potential to really be a great superhero film, but it never really took off. I thought the film was decent, entertaining and fun, but I felt that this film could have been much better than it turned out to be. This film is disappointing, but it's also a pretty entertaining film. I'm just stating that the film could have been much better. For what it is, this is mindless entertainment and does deliver some entertaining moments. However I don't think it's the film that everyone claims it to be, and del Toro, though an excellent director could have done better. Luckily the sequel to this film was better, and the plot was much more elaborate. There is something missing to this film to really make it a stunning action film. All the necessary ingredients are here, but something doesn't quite fit. The visuals are terrific, and it's the films greatest strength. I just preferred the sequel and thought that this film was average and really I didn't see why the film has gotten so much praise. The film is average entertainment, and I was disappointed because I thought it was going to be phenomenal, unfortunately this is one of those films that I felt was overhyped a bit, and it lacked something to really make it great. Overall a decent action film, never great, but not bad either.
Hellboy Quotes
| | |
| --- | --- |
| Hellboy: | I'm fireproof. You're not. |
| | |
| --- | --- |
| Liz Sherman: | Red, white, whatever. Guys are all the same. |
| | |
| --- | --- |
| Abe Sapien: | Remind me why I do this again. |
| Hellboy: | Rotten eggs and the safety of mankind |
| Abe Sapien: | Ah. |
| | |
| --- | --- |
| Hellboy: | Didn't I kill you already? |
Discussion Forum
Discuss Hellboy on our Movie forum!