Hollywood Chainsaw Hookers
(1988)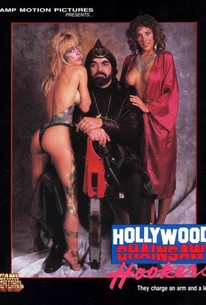 AUDIENCE SCORE
Critic Consensus: No consensus yet.
Hollywood Chainsaw Hookers Photos
Movie Info
Jack Chandler (Jay Richardson) is a private detective hired to locate runaway teen Samantha Kelso (Linnea Quigley) in this horror-film parody. He finds her stripping in a seedy topless club, but Samantha spikes his drink and he passes out. Jack wakes up and discovers he is in the lair of a chainsaw-worshiping blood cult. The deadly hookers lure their victims with sex before they dismember them by chainsaw. Two hookers are pitted against each other with chainsaws as they fight to the death in the final scene. With nudity, sex, and violence, this feature should please film fans who need a fix of hot dripping blood.
Critic Reviews for Hollywood Chainsaw Hookers
All Critics (3) | Fresh (1) | Rotten (2) | DVD (3)
Director Fred Olen Ray will never be confused with his namesakes Nicholas and Satyajit, but once upon a time he made a pretty entertaining B-movie, Hollywood Chainsaw Hookers.
Title says all
October 23, 2004 | Rating: 0/5
Audience Reviews for Hollywood Chainsaw Hookers
I won't tell you that Hollywood Chainsaw Hookers is bad, you read the title, you know it's bad. I know it's bad, the movie itself knows it's bad. Hell, it goes out of its way to deliberately ensure it's bad, that's the whole point. But what I will tell you, is that I'm all about bad 80's horror, and I was willing to give Hollywood Chainsaw Hookers two and a half stars, which is not too shabby a rating from me, but they completely lost me in the climax, where the badness went from funny to awkward and cringeworthy. So I ended up giving it one, because, as shitty as it is, it's no Ouija.
This one aint shit, but a good time. Boobies and Bloodshed worship!!! ALL HAIL THE CHAINSAW GODS!!!!!!!!!!!!!!!
Ed Fucking Harris
Super Reviewer
Director Fred Olen Ray delivers a campy, sexy, very bloody parody about attractive prostitutes who dismember their unsuspecting customers.
Dean McKenna
Super Reviewer
Hollywood Chainsaw Hookers Quotes
There are no approved quotes yet for this movie.