Home Sweet Home
(2013)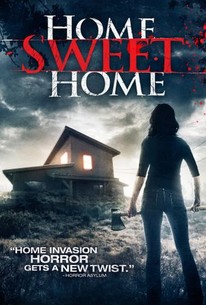 AUDIENCE SCORE
Critic Consensus: No consensus yet.
Movie Info
A young married couple experiences the ultimate nightmare when they return home to find an unexpected guest. Trapped by a deranged, methodical killer in their own home, the couple must do whatever it takes to survive his twisted game. Incredibly unnerving, Home Sweet Home is a dark and panic-filled tale not for the faint of heart.
Critic Reviews for Home Sweet Home
There are no critic reviews yet for Home Sweet Home. Keep checking Rotten Tomatoes for updates!
Audience Reviews for Home Sweet Home
The poster in this film has a blurb from a review that says 'Home invasion horror gets a new twist'. Seriously. Somebody actually said this about this movie. I'd like for it to be explained to me how this is different than every home invasion horror film in existence. I'm literally trying to think how this film was any different than all other films of this type and I'm really struggling. The poster is also misleading because it implies that the person invading the house is a woman and that this woman has an ax, a weapon that is never brandished by anybody in the actual film. Someone does brandish a sword, but that's about it. So I don't know. Never a big fan of a marketing department that likes to pretend that the film is something different than what it is. Like a movie with Colm Meaney and Brendan Fraser, whose poster made it look like it was an action-packed film with Fraser carrying a gun, when it was a silly comedy where no one at any point of the movie actually shot a gun. While this movie is certainly watchable enough, it's got one of those 'let's see how long we can go on without talking' beginnings. And I just hate that shit. It's not that it couldn't work if done correctly, but it came across as so ostentatious. The film being as short as it is, so they felt the need to make everything that much longer with the pacing of the first 15 minutes. The entire film, honestly, is much too arrogant. Perhaps arrogant isn't the right word to describe it, but it just feels like it's pretending to be much more than what it actually is. The main characters themselves are literally the most boring characters you will ever see in a horror movie. I think that makes it hard to care about them when the shit hits the fan. I guess the idea of this unknown intruder coming into their house and murdering them is supposed to be enough for you to rally behind this couple, mostly Sara, since her husband is dispatched fairly easily. I don't know, maybe if the characters were a little more interesting than they were and the film didn't pretend to be something that it wasn't then it honestly might've worked. The movie is very minimalist, there's hardly any dialogue with the exception of when the couple arrives to their house after a night out. Other than that, the film is slow, plodding, and boring. I suppose the idea is to build suspense but it didn't really anything for me. Comes across like they had a 25 page script that they stretched out beyond belief. It's not that there's not enough material, it's that they take what they have and slow everything down so it plays out as long as possible on screen. There's some examples where the film simply has a lot of filler, as evidenced by At the Devil's Door. There's other times when they take what they do have and they slow everything down to a halt so it makes the film longer. Of course this means that the pacing is terrible. It's not a movie that overstays its welcome, a lot, but it still feels longer than it actually is. The climax itself also reinforces the film's showy aspects. They use slo-mo while a loud classical score plays. For what reason do they do this? Just cause. Easily the worst reason to do anything, when it comes to a movie at least. It doesn't serve any real purpose other than to show off. And the thing is, the movie isn't actually bad. I mean if they embraced what they were rather than pretending to be something else, it might've been a lot better. But this attitude towards filmmaking gives the idea that they're above the normal home invasion thriller, when it's really not. Just embrace what you are, go with it, and just go all out. Not a terrible movie, but one that's much too concerned about other things to impress others as opposed to being a good horror movie. Watch at your own risk.
Jesse Ortega
Super Reviewer
Home Sweet Home Quotes
There are no approved quotes yet for this movie.