House Of The Rising Sun
(2011)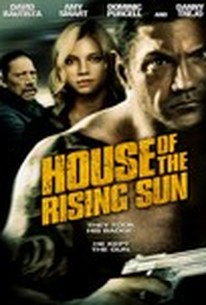 AUDIENCE SCORE
Critic Consensus: No consensus yet.
House Of The Rising Sun Photos
Movie Info
A former cop goes to work at a mafia strip club after being released from prison, and races to solve a vicious crime before he takes the fall in this hard-hitting action thriller starring WWF brawler Dave Bautista (aka Batista). Ray (Bautista) used to uphold the law; now he's fallen on the wrong side of it. But he's served his sentence, and he's content just taking things one day at a time. In order to earn a little extra income, Ray takes a job as the head of security at The House of the Rising Sun, an underworld strip club that also houses an illicit gambling den. When a savage gang of thieves strike fast and hard, the police finger Ray as the mastermind of the violent robbery. Now, in order to regain his honor and avoid ending up back in prison, Ray must catch the real culprits, before the police catch up with him.
Critic Reviews for House Of The Rising Sun
All Critics (2) | Fresh (0) | Rotten (2)
There's potential for a by-the-numbers underworld detective story. Unfortunately, that potential never is realized in Miller's film, a flaccid and convoluted tale of double-crosses.
Muddled and frequently comatose, the picture yearns to be a turbulent ride of crooks and cops, yet it never rises to the occasion, generating a feeble mystery sold by a cast of brutes trying to pass themselves off as actors.
Audience Reviews for House Of The Rising Sun
the problem with casting wrestling stars is the expectation of delivering in terms of action. this film tries to shake this perception off by going into a detective story with such a boring story. the film just doesn't have the strength to deliver anything worthwhile. Bautista is a complete mess in the lead, he looks tough but he really isn't in this role which is puzzling. he clearly hasn't got the strength as an actor to carry the emotional parts, clearly they need to watch the action films of the eighties to see how these types of films were made. the supporting cast is wasted and in particular Purcell who is ruining he's career performing in such narrow minded movies. He is a great actor but sadly is wasted here. Amy Smart is wasted as the love interest and is totally unbelievable for Bautista, they have zero chemistry. the real concern is from Brian A Miller behind the lens who can't stage an action film to save he's life. every time there is an action scene the music is amped to 11 and its annoying and uncalled for. He clearly is out of depth as the film suffers from a severe case of amatuar filmmaking. bad beyond meaning this is poor filmmaking 101, don't waste your time on this
Brendan Nicholls
Super Reviewer
Brian A. Miller decides to go with a wrestler as his lead and ends up with House of the Rising Sun, a bland piece of crap.
Not even an 80+ minute run time helps this film finish quickly. The story unfolds as a slow burn, and while it isn't the worst movie ever written, things fail miserably to entertain. The dialogue is mediocre, all the story elements are predictable, and the characters are forgettable.
The action is undistinguished and it never stands out. There is no sense of urgency to be seen or thrills with any of it. Ultimately, it all just blends in with the rest of the film. Top it all off with a constantly playing soundtrack that gets wearisome rather quickly.
Dave Bautista is too conservative with his character and that leads to an emotionless hero. Obviously, this is not a good thing. Amy Smart does try to rouse things up, but she can only do so much with her limited screen time.
From top to bottom, House of the Rising Sun is a disappointing watch. Next please.
A rather predictable piece of trash that brings nothing new to the table. Lots of poor acting rom Dave Bautista and surprisingly Amy Smart. The only performance worth noticing is by Dominic Purcell, who is nothing short of sensational.
House Of The Rising Sun Quotes
There are no approved quotes yet for this movie.