If I Want To Whistle, I Whistle
(2011)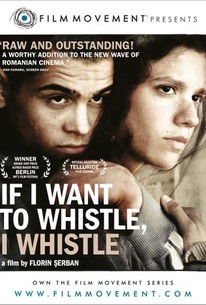 If I Want To Whistle, I Whistle Photos
Movie Info
Silviu has only two weeks left before his release from a hostile juvenile detention center. But when his mother, who abandoned him long ago, returns to take his younger brother away - a brother Silviu raised like a son those two weeks become an eternity. While his outcries for help fall on deaf ears, he finds himself mercilessly taunted and harassed by the other inmates. And just as Silviu's frustration evolves into full-throttled aggression, he is introduced to a beautiful social worker that he can only dream of being close to. Faced with a slew of conflicting emotions and wild with desperation, Silviu is driven to a surprising act of defiance as he makes a last grasp for freedom. -- (C) Film Movement
News & Interviews for If I Want To Whistle, I Whistle
Critic Reviews for If I Want To Whistle, I Whistle
Audience Reviews for If I Want To Whistle, I Whistle
Pistereanu carries this drama with a surprising talent and intensity, but after two careful first acts with long scenes that show the character's life inside the prison using a realistic, almost documentary-like approach, the film reaches a disappointing conflict that is hard to buy.
Carlos Magalhães
Super Reviewer
½
With Silviu(George Pistereanu) only having 15 days left on a four year sentence at a juvenile detention center, his younger brother Marius comes to visit, informing him that their mother(Clara Voda) is going to take him to Italy with her. Isn't that great? Upset, Silviu wants to get a closer look at who is with him but has the snot beaten out of him by a guard when he gets too close to the fence. Luckily, the warden(Mihai Constantin) says this will not affect his release which is brightened considerably when Ana(Ada Condeescu) comes to interview him. In return, he flirts with her. What "If I Want to Whistle, I Whistle" wants to aim for is a feeling of slow burn and dread in its first half. Rather, like every almost every other Romanian movie I have seen lately, it is full of long, pointless scenes that go nowhere, thus ruining the mood.(Seriously, can't anybody in the country edit?) So, it is not really clear what the movie is trying to say. Since it is not apparent that the mother is either abusive or toxic, maybe Silviu will just have to get over himself before he starts a new life on the outside.
½
I viewed this at the 2011 Cleveland International Film Festival. Character driven drama about a young man (Pistereanu) in a desperate situation. With a slow deliberate pace we see that he is coping well with life in a detention center, but for ambiguous reasons his mother makes him lose his focus on good behavior and he starts acting out for special privileges. Strangely he creates a hostage situation with the girl student he has developed a crush upon. Is it an East European art film breaking the cliches of Hollywood fare? Or is it a puzzling tale with vague motivations and something lost in translation?
Byron Brubaker
Super Reviewer
If I Want To Whistle, I Whistle Quotes
There are no approved quotes yet for this movie.