Images
(1972)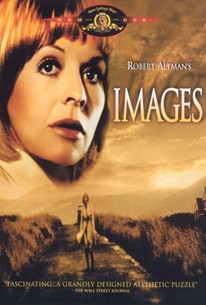 Movie Info
A woman walks a razor's edge between reality and madness in this impressionistic drama written and directed by Robert Altman. Cathryn (Susannah York) is a woman who begins to suspect that her marriage to Hugh (René Auberjonois) is falling apart after receiving a mysterious phone call from a friend who tells her Hugh has been having an affair. Cathryn herself has not been happy with Hugh, and years before she took a lover, Rene (Marcel Bozzuffi), though he died some time ago in a plane crash. Thinking they both need to get away, Hugh takes Cathryn to their house in the country, where Hugh indulges in his hobbies, hunting and photography, and Cathryn works on a book of fantasy tales for children. Before long, Cathryn begins to see apparitions of the late Rene around the house, much to her consternation; while confronting her feelings about the late Rene and the wandering Hugh, Marcel (Hugh Millais), a friend of the couple who makes little secret of his attraction to Cathryn, arrives for a visit, with his daughter Susannah (Cathryn Harrison) in tow. As Rene's appearances become more vivid and Cathryn reaches the end of her tether, she begins to drift deeper into a fantasy world, where it's difficult to tell what is real and what is imagined. Beautifully shot on striking locations in Ireland by Vilmos Zsigmond, Images earned Susannah York an award as Best Actress at the 1972 Cannes Film Festival.
Critic Reviews for Images
Audience Reviews for Images
½
Susannah York is stellar but the film is very odd.
Difficult to get into. You don't really get to know the main character, which made it difficult for me to connect with her. I missed context. What's her story? But when I was halfway through that didn't bother me anymore. The line between reality and her hallucinations become increasingly thin and confusing, you're just waiting for something to go terribly wrong. A large part of the movie is shot in a beautiful location. It adds to the mystery and surrealism.
I have a lot of trouble with films featuring unreliable narrators. While I understand that films about a character with a frayed sense of reality need to be as chaotic and fractured as their psyche, they tend to alienate me emotionally. Robert Altman's "Images" does those things, of course, but what makes this a step above similarly themed films like, "Persona," "Black Swan" or "The Double Life of Veronique," is that it's rather subtle. Films featuring a character confronting their double are usually fraught with ham-fisted symbolism and overly obvious motifs. I'm not saying "Images" is without these things but Altman has the finesse to blend them, more or less, seamlessly into the film. With the help of fluid cinematography by Vilmos Zsigmond, a dynamic and precise Susannah York and a haunting score by John Williams, "Images" is able to transcend the normal pitfalls of this microcosm of a genre and remain a serious piece of artistic expression.
Steven Carrier
Super Reviewer
Images Quotes
There are no approved quotes yet for this movie.