The Immoral Mr Teas
(1959)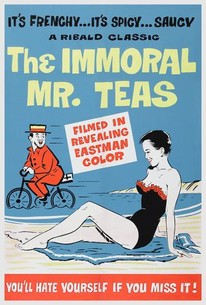 Movie Info
The Immoral Mr.Teashas been dubbed the first "nudie cutie" film. Russ Meyer wrote, directed and photographed the story of Mr. Teas, a deliveryman who envisions women without their clothes. A thin story line champions Mr.Teas as a common man in a complex society who has come to grips with his fantasy and escapes the moralistic scorn of the world. Marilyn Wesley, Dawn Dinielle, Ann Peters and Michele Roberts are the unpeeled apples of Mr. Teas' eyes. None of the actors speak, but there is a semi-educational narrative along with whimsical background music throughout. The film took five days and $24,000 to complete. Meyer used diffusing and reflecting natural light, not direct or artificial sunlight. The world premier at the Los Angeles Monica Theatre broke all previous attendance records showing the film to "unashamed adults only."
Critic Reviews for The Immoral Mr Teas
Audience Reviews for The Immoral Mr Teas
½
From the start, I had a few serious misconceptions about Russ Meyer's debut "The Immoral Mr. Teas." First, I assumed it would be in gritty black-and-white rather than vivid color. Second, I thought it was about a man who can magically see through clothing, not a more "realistic" Peeping Tom who just has an active imagination. And I mistakenly thought for years that the title word was "Immortal" rather than "Immoral." (I like my version better!) I also had no idea that "The Immoral Mr. Teas" is essentially a silent film. The only components of the soundtrack are a male narrator and a merry, marching score (dominant instruments: accordion, clarinet and drums). The deadpan narrator has a faux-documentary style, and uses highbrow syntax to philosophize about the drudgery of modern life and the need for therapeutic escape. Sometimes he gives academic background which humorously relates to the action, such as when naked women swinging in a tire prompts him to discuss the rubber industry. The title character is a tanned, goateed, straw-hatted man who works on bicycle, delivering dental supplies. (He repeatedly passes a real-life intersection that includes "Cantlay Street," a found pun which Meyer must have loved). But wherever Mr. Teas goes, he sees girls with ample cleavage. It's a relief that they aren't the grotesquely proportioned mutants from Meyer's later films, but rather more ordinary, everyday beauties. As the film's 63 minutes pass, the cleavage expands to toplessness and then (strategically obscured) full nudity. And Mr. Teas' efforts to ogle his prey become more aggressive. Luckily for him, he always goes unseen -- even when this is implausible. Other times, he simply fantasizes about women in his head (as Meyer inserts a clichà (C)d, hypnosis spiral to indicate the shift). The lead actor (whose last name really is Teas) looks surprisingly contemporary, which means the film ages better than expected. The hair, makeup and lingerie of the girls more clearly belong to the Marilyn Monroe era, but that's just kitschy fun. This film's groundbreaking influence on the "nudie" genre may be a dubious achievement, but it's hard to miss that its scenes are expertly edited. Meyer was no hack as a director, even if his sensibilities were in the gutter.
Eric Broome
Super Reviewer
Slow, plodding, yet one of the first films containing unabashed nudity, and Russ Meyer's first commercially successful film. Not something to sit through and watch from end to end, although it does have some light-hearted ribald humor if you stick with it long enough. Otherwise, its a neat insight into the first, and by modern standards utterly innocent, steps toward nudity in film. Before this film, nudity was masqueraded as "educational films" about nudist camps, whereas "The Immoral Mr. Teas", while constantly placing in educational facts about sunlight and water density, does so with a tongue so firmly in its cheek, its hard not to laugh at it's absurdity, yet appreciate its honesty... especially in comparison to what would come later on in the 1960's.
Daniel Hetteix
Super Reviewer
The Immoral Mr Teas Quotes
There are no approved quotes yet for this movie.