Iraq in Fragments
(2006)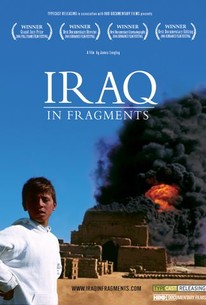 Movie Info
An opus in three parts, "Iraq In Fragments" offers a series of intimate, passionately-felt portraits: A fatherless 11-year-old is apprenticed to the domineering owner of a Baghdad garage; Sadr followers in two Shiite cities rally for regional elections while enforcing Islamic law at the point of a gun; a family of Kurdish farmers welcomes the US presence, which has allowed them a measure of freedom previously denied.
News & Interviews for Iraq in Fragments
Critic Reviews for Iraq in Fragments
Audience Reviews for Iraq in Fragments
Early on in James Longley's astonishingly breathtaking Iraq in Fragments, a man sitting in a rubble-strewn street is heard to utter "If it's like this in the beginning-what will it be in the end?" Moments such as these, burned into the mind's eye thanks to Longley's vibrant photography, make this film more than memorable—it becomes eternal. The cinematography, editing, and music of Iraq in Fragments (all by the hand of Longley) help to make this whole package pure poetry. Shot over two years by American Langley, Iraq in Fragments is an opus offering a trio of separate passionate portraits: "Monhammed of Baghdad" follows a fatherless boy apprenticed to a domineering garage owner; "Sadr's South" chronicles Sadr followers rallying for regional elections even while they still enforce Islamic law with violent force; "Kurdish Spring" tells the story of a Kurdish farming family welcoming the U.S. presence because it has offered them freedoms they never knew. Giving absorbing visage into the war-torn and not the actual war, this documentary unfolds these three engaging chapters that, taken together, form a prescient Greek Chorus giving voice to the Sunnis, Shiites, and Kurds alike. Just as in America, however, the voice is resounding, but rarely harmoniously unified. Though An Inconvenient Truth walked away with top honors at the Academy Awards, this accomplishment by no means bested Iraq in Fragments, which was also nominated. In a time dominated by many dire issues, some rise to the top of the public consciousness through politicking. Others stand on their own revelatory merits. Bottom line: A resounding voice that must be heard.
Not the view of the war that you generally get from newscasts, this documentary takes us into peoples' homes to find out how Iraq's inhabitants lead their day to day existence as political turmoil rages around them. I am surprised that people can remain calm in such circumstances.
John Ballantine
Super Reviewer
I wasn't as impressed with this movie as I thought I would be. It pretty much just reinforces my belief that invading and occupying Iraq was one of the worst things we could do and that religion, ALL RELIGION, is crazy.
Sarah Prisbylla
Super Reviewer
Iraq in Fragments Quotes
There are no approved quotes yet for this movie.