It's Alive III: Island of the Alive
(1987)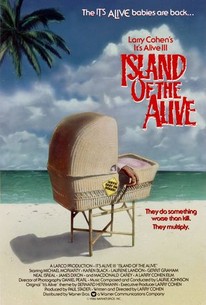 It's Alive III: Island of the Alive Photos
Movie Info
The third and final entry in the "It's Alive" series of horror films features touches of black humor and razor-sharp social commentary as it chronicles the further misadventures of a group of murderous mutant babies who in the previous episode had been taken to a lonely island. Scientists go back to the island and discover that the babies have grown up and have begun making more monstrous offspring. The mutants rebel against the scientist, kill all but one and head for the Florida coast.
News & Interviews for It's Alive III: Island of the Alive
Critic Reviews for It's Alive III: Island of the Alive
Audience Reviews for It's Alive III: Island of the Alive
This one sets a different tone compared to the first two films in the series and doesn't take itself too seriously. It's got some nice gore and some bizarre humourous moments, and you also get a better look at the mutant misfits and even fully grown ones too. It is a pretty stupid film though and quite juvenille, so not a classic here, but it is fun.
A whole tropical Island of monster babies is visited for maxiumum horror and hilarity. Like a Jurassic Park sequel, men with guns become the hunted ones against the hoard. Fun and cheap.
Lafe Fredbjornson
Super Reviewer
worth it only for Moriarity's performance, which is as idiosyncratic as one of Walken's; not a good movie but the least logy of the series
Adam Mahler
Super Reviewer
It's Alive III: Island of the Alive Quotes
There are no approved quotes yet for this movie.