Island of Fire (Huo shao dao) (Jackie Chan Is the Prisoner) (Island on Fire)
(1991)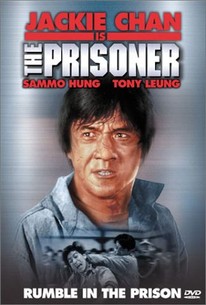 AUDIENCE SCORE
Critic Consensus: No consensus yet.
Movie Info
Chu Yen-ping directs this all-star cast prison flick about cop Huang Wei (Tony Leung Kar-fai) who goes into the clink undercover to figure out how the fingerprints of a long deceased death-row inmate ended up at the scene of a recent murder. There he quickly runs afoul of gangland powers, making his life a living hell. His fellow inmates include Lung (Jackie Chan) who killed a card sharp to pay for an operation for his girlfriend; Triad (Andy Lau Tak-wah) who looking for the guy who killed his brother in jail; and Lui (Sammo Hung Kam-po) a sadsack con who regularly breaks out to visit his son. Later, Huang kills a prison guard and is sentenced to death. He soon learns that the jail's crazed warden is using supposedly executed criminals to kill crime bosses who are beyond the law. ~ Jonathan Crow, Rovi
Critic Reviews for Island of Fire (Huo shao dao) (Jackie Chan Is the Prisoner) (Island on Fire)
Audience Reviews for Island of Fire (Huo shao dao) (Jackie Chan Is the Prisoner) (Island on Fire)
The packaging/poster for the American video/DVD release of this Taiwanese action pic is so misleading. Jackie Chan is much younger in the flick than in the picture above and changing the title from Island of Fire to Jackie Chan Is the Prisoner suggests that Jackie Chan is more than the supporting character he is. The pop music and romantic subplot involving Tony Leung felt like pure 80's. Tony Leung plays a cop, who in the English subtitled version I saw is named Andy Lau, not to be confused with actor Andy Lau, who plays a mob boss named Boss Lee. Andy (Tony Leung) goes undercover in a prison to investigate a supposedly dead inmate. He befriends Charlie (Chung-Hua Tou), his meek roommate. We meet hapless and good-hearted John Liu (Sammo Hung), who comically attempts multiple escapes. Andy (Leung) also eventually befriends the mysterious Lucas (Yu Wang). Jackie Chan shows up almost a third of the way through the picture as Steve, a "normal guy" with a model girlfriend, who has too much honor to throw a match in which he is competing. He's not a fighter though; he's a pool player. He's a pool player who happens to be amazing at martial arts. Steve gets on the wrong side of Boss Lee and is sent to the same prison. Andy (Leung) gets on the wrong side of Boss Lee's men on the inside of the prison as well as the crooked superintendent (Chun Hsiung Ko). Steve does too, but has better survival skills. The characters are interesting. The violence is thrilling and there are a few laughs. I was right with the story for quite awhile, but really such a large cast of stars and all this in-fighting in the prison is just a big distraction from the original purpose of investigating the prison. The plot seemed tragic, but heroic. It made me think that the whole thing was just the back-story to countless 80's TV action dramas. The last act went overboard though. It is badly dubbed (subtitled too, but it doesn't match). It doesn't make sense. Our "heroes" take to gun play over martial arts. And it loses any tough as nails cred it might have built with the final twists.
Byron Brubaker
Super Reviewer
½
'The Prisoner (aka Island of Fire)' Captures the Attention In Spurts I knew going in this isn't typical Jackie, or even very good Jackie, but it is on my dwindling list of unseen Jackie. Basically he appears in it as a 'favor' to a shifty filmmaker named Jimmy Wang Yu and has about a quarter of the screentime. More heavy drama than humor, but you still get Sammo Hung and a host of other usual HK suspects, and you can play "spot the Cool Hand Luke scene" as a drinking game. Unique feature: Jackie gets gunned down, where else are you gonna see that? At worst, surely it's still a helluva lot better than any Van Damme/Chuck Norris/Steven Seagal greatest hits package. Fights/stunts: -------------- with bags of money in bar with gangsters 1-on-1 prison fight
Doctor Strangeblog
Super Reviewer
½
What the hell was this?
Tsubaki Sanjuro
Super Reviewer
Island of Fire (Huo shao dao) (Jackie Chan Is the Prisoner) (Island on Fire) Quotes
There are no approved quotes yet for this movie.