Jade Warrior (Jadesoturi)
(2006)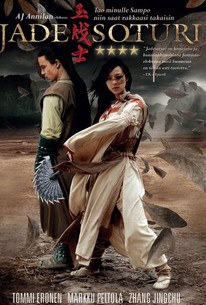 AUDIENCE SCORE
Critic Consensus: No consensus yet.
Jade Warrior (Jadesoturi) Photos
Movie Info
Writer/director Antti-Jussi Annila's picture Jade Warrior (Jade Soturi) takes as its starting-off point an arresting and little-known fact -- the similarity of Chinese and Finnish mythologies -- and uses it to combine two seemingly unrelated genres: the quirky Finnish fantasy (typified by the works of Kaurismaki) and the Chinese martial arts film. Inspired by a well-known Finnish epic called The Kalevala, the story opens with a down-on-his luck hardware merchant who gets dumped by his girlfriend. She tries to dispose of his collection of Asian artifacts at an antique dealer, but this sets off a mythical series of events that turns the merchant into a warrior prince, fated to battle a demon in icy northern Finland, responsible for enslaving all of humankind. The prince is abetted -- and then ultimately betrayed -- by a two-faced female warrior who has captured his heart and thus carries his greatest weakness in her hands. The battle involves enchanted boxes, spectacular swordfights, and supernatural events that come together -- simultaneously -- in an isolated cabin on the outskirts of Helsinki and in the rural Chinese mountains. Tommi Eronen, Markku Peltola, Zhang Jing-chu, and Krista Kosonen co-star; Annila co-authored the script with Petri Jokiranta.
Audience Reviews for Jade Warrior (Jadesoturi)
With this and Sauna, Annila is easily one of the most exciting directors working today.
Christopher Brown
Super Reviewer
I was expecting great things from this movie and it did not disappoint. I have never seen a movie quite like this. It is a movie from Finland, but at the same time it seems like it could have come from China. I say this because it combines Finnish and Chinese mythology into one complete film. Half the movie takes place in modern day Finland while the other half takes place in ancient China. The two intertwine and feed off each other perfectly. It was great to see two different languages being used throughout the film as well during their respective periods. One way to describe this film would be a "Finnish Wuxia Film".
The story is very unique and entertaining and it is this story that really allows the film to work well with the 2 different time periods and locations. Of course, you may need to watch this film multiple times to pick up and understand everything the story has to offer. But, watching this movie multiple times shouldn't be that hard to do.
Visually, this movie is stunning. The CG effects are some of the best that I have ever seen and having seen Hero, House of Flying Daggers, The Matrix Trilogy, etc. I really believe that is saying something. Combine this with excellent, excellent, excellent, cinematography from the director and you get a beautifully produced picture.
The acting was great as well. Jingchu Zhang, from Seven Swords fame and at the time of this writing will hopefully be seen in the upcoming Rush Hour 3, was as beautiful as can be and Tommi Eronen does an excellent job playing his two main characters.
The title and promo pictures for this movie may fool people into believing that this is an action film. Unfortunately it is not. Don't get me wrong, there are a few great Crouching Tiger-esque action sequences in here, but just like Crouching Tiger, Hidden Dragon this film is really story driven. With that said, there is actually a fight where both the fighters are using BLACKSMITH HAMMERS. Pretty impressive.
This movie is definitely well worth your time if you're in the mood for a great story with some top-notch visuals and a nicely orchestrated soundtrack. I have nothing really bad to say about this film except for the fact that I would have liked more action scenes, but that's just me being an action fanatic. Some people may also be disappointed at its short length. It comes in at a little over 90 minutes.
Jade Warrior (Jadesoturi) Quotes
There are no approved quotes yet for this movie.