Jamón Jamón
(1991)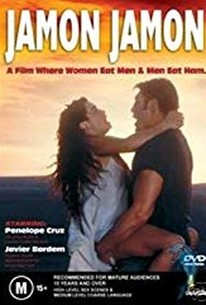 TOMATOMETER
AUDIENCE SCORE
Critic Consensus: It isn't as provocative or amusing as it pretends to be, but Jamón Jamón's cheerfully overheated melodrama is often its own reward.
Movie Info
Class, sex, and food are the obsessions of this Spanish comedy drama, an international hit from writer and director J.J. Bigas Luna that plays like a cross between the lusty Like Water for Chocolate (1992) and the early work of Pedro Almodovar. In a small town in Spain's arid Monegros region, young underwear factory executive Jose Luis (Jordi Molla) falls in love with the beautiful Silvia (Penelope Cruz), a worker on the shop floor. When Silvia becomes pregnant, Jose Luis wants to marry her, but his mother Conchita (Stefania Sandrelli), the factory owner, is appalled by the thought of her son marrying a working-class girl, especially one who is the daughter of a prostitute, Carmen (Anna Galiena). So Conchita hatches a scheme to woo Silvia away from her son by hiring handsome model Raul (Javier Bardem) to seduce the girl. A ham factory employee with aspirations to become a bullfighter, Raul's charms work their magic on both Silvia and Conchita, much to the dismay of Jose Luis, who seeks comfort in the arms of his sometime lover, Carmen. Jamon Jamon (1992) was the winner of a Silver Lion at the Venice Film Festival.
Critic Reviews for Jamón Jamón
Audience Reviews for Jamón Jamón
½
Silvia (Penèlope Cruz), a beautiful young Spanish woman, prepares omelettes for the workers in the underwear factory owned by José Luis (Jordi Molla)' family. After missing two periods, Silvia reveals to José that she is pregnant expecting him to react negatively. However, to Silvia's surprise and delight, José expresses his love for her and desire for her to go through with the pregnancy. Romantically, he picks up the ring from a soda can he finds on the ground and places it on her finger and tells her they will get married. Despite the apparent monetary worthlessness of this item, Silvia cherishes it and all that it symbolizes. José has a difficult time explaining to his overbearing and conniving mother that he is in love with Silvia and intends to marry her. José's mother, Conchita, does not approve and when her husband refuses to help her by intervening, she takes matters into her own hands. She hires Raul ( Javier Bardem), an underwear model who works for the family business to seduce Silvia, hoping this will destroy the relationship and prevent the marriage. In spite of several aggressive attempts by Raul to seduce Silvia, she remains committed to marry José. Raúl however, becomes genuinely infatuated with Silvia while Conchita's (Stefania Sandrelli) lust for Raúl leads her to offer him anything he wants if only he has sex with her. Raul's choice is a Yamaha FZR600 motorbike so, despite his apparent lack of interest in Conchita, he becomes her lover. Meanwhile, José's inability to come to a decision about whether to marry Silvia without his mother's approval, leads to Silvia's deciding she wants a "real man", one who has gumption. She begins to take interest in Raúl. Conchita does not approve of this relationship either because she wants Raúl for herself. Food as metaphor pervades this witty, sexy, stunning, film. Characters have primal lusts (hungers), which are described with meat and animal imagery. One of Silvia's suitors (Raúl, played by Javier Bardem) is an aspiring bullfighter. There is a scene of nude bullfighting. At the end of the movie, the two characters vying for her affection beat each other with enormous cuts of these ham hocks. An example of the use of food imagery occurs in an erotic scene between Silvia and José Luis. At one point he gently pulls down her shirt and starts to suck and lick her nipples. The English subtitles are: Silvia: How come you like eating my tits? José Luis: I like the way they taste. S: What do they taste like? JL: I don't know. Nothing. S: Is it that they taste like ham omelette? JL: That would be asking too much: one tasting like an omelette and the other like ham. S: José Luis... The Spanish names of these dishes are jamón serrano and tortilla de patatas. You don't have to be Spanish to get this movie but it surely helps. It's a bit sad to see so many reviews which so totally miss the point, and none of them from Spain. One negative reviewer even thought the film was set in Mexico which goes to show how much attention he was paying. This film is a satire on various aspects of Spanish culture and character, primarily machismo and sexual hypocrisy, but taking in culinary preferences, attitudes to animals and those surreal brandy adverts in the shape of bulls that any visitor to Spain will be familiar with. Bigas Luna chucks it all in the stew and turns the heat up to maximum. And why are so many people upset by the trucks? The film is set next to one of those long dusty highways that are so common in Spain. Of course there are trucks. Take my tip, go to Spain, rent a car, drive between nearly any two big cities, stay in a motel at the side of the road, try and sleep - you will get the idea.
Cassandra Maples
Super Reviewer
One reason why I didn't like this movie because of that boob sucking scene. Honestly it seems more like a porn movie. You want to show some reality of life then show it. But why showing these? Retards.
Dead Angel
Super Reviewer
Little seen early Penelope Cruz-Javier Bardem effort but it is tremendous!
John Ballantine
Super Reviewer
Jamón Jamón Quotes
There are no approved quotes yet for this movie.