Jopog manura 3 (My Wife Is a Gangster 3)
(2006)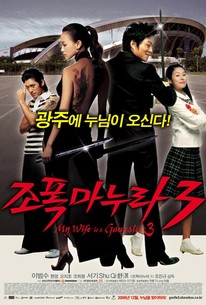 AUDIENCE SCORE
Critic Consensus: No consensus yet.
Movie Info
Cha Eun-jin (Eun-Kyung Shin) a female organized crime boss, heads to China to take revenge for a murder, there she encounters a female triad boss (Shu Qi ).
Critic Reviews for Jopog manura 3 (My Wife Is a Gangster 3)
There are no critic reviews yet for Jopog manura 3 (My Wife Is a Gangster 3). Keep checking Rotten Tomatoes for updates!
Audience Reviews for Jopog manura 3 (My Wife Is a Gangster 3)
½
This isn't the first time this has happened to me, where a film's sequel(s) is offered, but not the original. I watched Attack The Bus Station 2, one of the Marrying The Mafia movies and, of course, this one without ever having seen the original. Though, at least, in this case, the movie has no relation to the movies that came prior, so I didn't have to find those two to get a deeper understanding of this movie. And, if I did, then I would have just been doing something wrong with my life, considering the general lightness of most South Korean comedies. Plus, I'm certain, they would have done a decent enough job at catching me up regardless. I don't know why I'm starting with this. Must be cause I have nothing to say. I think I've made it clear that I love the country of South Korea and, parts, of its culture. Most of the South Korean movies I watch, I watch simply because they're from that country. Even if I know they're probably not gonna be good or, eventually, give in to melodrama (which they're known for, trust me). There's no other country that I do that for, really, where I just watch them BECAUSE they're from that country. Essentially, that's why this movie was watched. To be honest, I wasn't expecting much from this in the slightest. I just know how most of these movies play out and it's not like the plot description really drew me in anyway. At the same time, I was genuinely surprised by this movie. It's not like this is a sleeper hit, where people completely overlooked a hidden gem in favor of bigger, more successful movies. I wouldn't go so far as to say that this was a good movie. I don't think it comes close to being a good movie. But for what it was, this was a surprisingly decent movie. Then again, maybe it's a bad movie and I was just in a good mood, therefore I was more forgiving, but I didn't have a problem with this in the slightest. South Korea, as many other cultures in the world, is male-dominated. From business, to music, to media, it's very male-oriented culture. Having said that, there's honestly very few movies that have dealt with the topic of women coming into a male-dominated world and thriving in that world seriously. While there's no actual depth to this and, in the long run, this probably ends up falling into the same trappings of every rom-com in existence, it's always interesting to see films like this. Perhaps it's not even interesting, but it's just worth noting rather. Because, again, very little is done to explore the dynamics of how Lim is perceived in this mob world, where her father runs one of the major gangs that is on the brink of war with another gang after the big boss is murdered. Lim is framed for this murder and is sent to South Korea in order to hide her from assassins who are out for revenge. There, she's charged to this bumbling gangster and his two idiot goons. She's put under this Gi-cheol's care because, apparently, he's able to speak to her in her native tongue. I guess this was a bunch of bullshit to get Lim under Gi-cheol's care, because this guy speaks no mandarin in the slightest. They eventually have to hire an interpreter and this leads to one of the running gags of the movie, where the interpreter exaggerates or straight up lies about what Lim is saying in order to make the men fall in line after, originally, they mistreated her. It's not great, but it is a running gag. One of the best bits in the movie is this clever visual gag, when Lim and Gi-cheol are escaping from the assassins. Lim tells Gi-cheol that they should switch seats but, of course, he couldn't understand due to the language barrier. Lim eventually gets on top of Gi-cheol and starts to drive the car herself. They come to these very steep stone steps that, naturally, they can drive their car down. They proceed to drive down the cars and, essentially, the whole scene is a euphemism for sex. You get to see them bumping around and Gi-cheol's crotch, again, bumping into Lim. South Korea is a very conservative country. It's to the point where I saw very slight cleavage censored on a TV drama. Seriously, it didn't expose the actress' breasts in the slightest. 99.99% of her breasts were covered, and it was still censored. Granted, there's more freedom in films, but, for the most part, they really shy away from sex and, in fact, a lot of the kisses I see in South Korea rom-coms lack any real passion. It's like two kids pushing their lips together, holding them there for a few seconds and that's it. There's no lip movement or anything. I know these are cultural differences, but I've certainly noticed. So, anyway, I'm certain that this went in with a conservative approach to sex and kissing as well. I feel that that's why the scene where they drive down the steps works because, again, it's not something you see from these movies and it's a clever way to make a sex joke without actually making a sex joke. It's all in the actors' facial expressions. Not that I think it was hilarious, but it was still a pretty funny bit all things considered. Having said that, the whole romance between Lim and Gi-cheol feels a little forced. I know that sometimes there's a physical attraction to someone whose language you might not even speak, but I don't feel like that is even the case here. It just feels like Lim and Gi-cheol fell in love because that is what is written on the script and not because of an organic attraction between the two materialized. And, at the same time, it plays into every stereotype and convention about women in South Korea, even though Lim is from Hong Kong, and that is that they need a man in their life. This isn't so much the case here, but I've seen plenty of movies where friends, parents, and other assorted people constantly bemoan the fate of a woman who, let's say she's 30, is still not married yet. I've seen this many times over and, quite frankly, it's not a good look in 2018. Again, I know it's cultural differences, but I still notice stuff like that. Anyway, I would have had no issue if there was more natural attraction between Lim and Gi-cheol, but it's just not there. Having said all of that, though, there's a certain charm about the movie that made it infinitely more watchable than I probably would have anticipated. There's not as much drama as I would have expected. Lim attempts to find her mom, whom her father abandoned, in South Korea and they draw some drama from that. Lim's father is blown up, he dies once Lim returns home, so Lim is then forced to avenge his death by murdering those responsible. It's not great, but it's decent enough and there was very little, if any, melodrama. The action itself is preposterous and not particularly good. They don't really make any effort in pretending that Shu Qi is doing her own stunts. I'm certain that she does SOME of her stunts, but I'm certain it was less than 10% of them. Not that there's that many to begin with, but they don't really even try to pretend. And the action, honestly, just isn't that effective anyway. It just lacks any real weight, it just feels like the actors are play-fighting and, essentially, that's what they are doing. But that's not something you should ever think. I don't know, plenty of faults to find in this movie, but I didn't hate this at all. It's kind of charming at times and the cast is decent enough. There's nothing you really need to see here, but I never felt that this was a waste of time. I wouldn't exactly recommend it, but if you love this franchise, then give this a shot I guess. I'm assuming it's not that different than what came before. For those who don't care, however, there's nothing that this movie excels at that you can't get from other, superior movies.
Jesse Ortega
Super Reviewer
NOT a continuation to the superior prior installments I and II, this movie is light hearted and silly in spots, and aims more for laughs than thrills or action packed drama. A bit flat in places and runs too long at close to 2 hours, its more fizz than flash. There are a few laugh out loud scenes but in other parts only chuckles. I must admit this movie does end up having heart ...not as enjoyable as parts I and II that share the same title, but still a fun watch!
"In December, Big Sister is arriving from Hong Kong." Aryoung is sent away from her homeland of Hong Kong by her father . Her father is a powerful gang leader that is in the midst of a major power struggle. He is worried about the safety of Aryoung and thus gives her the choice to stay in another country until things settle down in Hong Kong. Aryoung picks South Korea, mainly because her mother is Korean and now lives somewhere in that country. When Aryoung arrives at the Incheon airport, three Korean gang members are there waiting for her. The gangsters were assigned to protect Aryoung by their Korean boss. Unfortunately the three unwitting gangsters were not informed of Aryoung?s background, nor are they aware that the person the would have take care of is a woman. Aryoung can?t speak Korean and the gangsters can?t speak Chinese. Thus an uncomfortable acquaintance period is endured until the gangsters hire a Chinese translator. The gangsters soon learn that Aryoung has quite a few more surprises behind her pretty appearance. Review One of the funniest foreign films that I've seen so far and most probably, one of the best Korean films that I've seen but that really isn't something because I haven't seen a lot of Korean films, only Taegukgi comes to mind so this easily takes one of the top spots. Take note that I haven't seen the previous two installments so my review of this film is purely a stand alone and not in any way will it be judged and compared to the previous two films. My Wife is a Gangster 3 is a movie that blended comedy and action really well. The comedy are courtesy of the three lovable gangster wannabes who were assigned to protect the Wife, portrayed by Shu Qi, but it turns out they were the ones that needed protection. The action mostly came from Shu Qi and if you put these characters together you get a hysterical laugh-out-loud fest that won't stop until it ends. Add to that the blossoming romance subplot involving lead gangster wannabe Ki-Chul and the Wife and you get an impressive K-flick that's worth the watch.
Lorenzo von Matterhorn
Super Reviewer
Jopog manura 3 (My Wife Is a Gangster 3) Quotes
There are no approved quotes yet for this movie.