Jopog manura 3 (My Wife Is a Gangster 3)
(2006)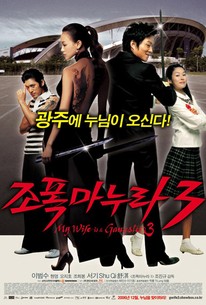 AUDIENCE SCORE
Critic Consensus: No consensus yet.
Movie Info
Cha Eun-jin (Eun-Kyung Shin) a female organized crime boss, heads to China to take revenge for a murder, there she encounters a female triad boss (Shu Qi ).
Critic Reviews for Jopog manura 3 (My Wife Is a Gangster 3)
There are no critic reviews yet for Jopog manura 3 (My Wife Is a Gangster 3). Keep checking Rotten Tomatoes for updates!
Audience Reviews for Jopog manura 3 (My Wife Is a Gangster 3)
NOT a continuation to the superior prior installments I and II, this movie is light hearted and silly in spots, and aims more for laughs than thrills or action packed drama. A bit flat in places and runs too long at close to 2 hours, its more fizz than flash. There are a few laugh out loud scenes but in other parts only chuckles. I must admit this movie does end up having heart ...not as enjoyable as parts I and II that share the same title, but still a fun watch!
"In December, Big Sister is arriving from Hong Kong." Aryoung is sent away from her homeland of Hong Kong by her father . Her father is a powerful gang leader that is in the midst of a major power struggle. He is worried about the safety of Aryoung and thus gives her the choice to stay in another country until things settle down in Hong Kong. Aryoung picks South Korea, mainly because her mother is Korean and now lives somewhere in that country. When Aryoung arrives at the Incheon airport, three Korean gang members are there waiting for her. The gangsters were assigned to protect Aryoung by their Korean boss. Unfortunately the three unwitting gangsters were not informed of Aryoung?s background, nor are they aware that the person the would have take care of is a woman. Aryoung can?t speak Korean and the gangsters can?t speak Chinese. Thus an uncomfortable acquaintance period is endured until the gangsters hire a Chinese translator. The gangsters soon learn that Aryoung has quite a few more surprises behind her pretty appearance. Review One of the funniest foreign films that I've seen so far and most probably, one of the best Korean films that I've seen but that really isn't something because I haven't seen a lot of Korean films, only Taegukgi comes to mind so this easily takes one of the top spots. Take note that I haven't seen the previous two installments so my review of this film is purely a stand alone and not in any way will it be judged and compared to the previous two films. My Wife is a Gangster 3 is a movie that blended comedy and action really well. The comedy are courtesy of the three lovable gangster wannabes who were assigned to protect the Wife, portrayed by Shu Qi, but it turns out they were the ones that needed protection. The action mostly came from Shu Qi and if you put these characters together you get a hysterical laugh-out-loud fest that won't stop until it ends. Add to that the blossoming romance subplot involving lead gangster wannabe Ki-Chul and the Wife and you get an impressive K-flick that's worth the watch.
Lorenzo von Matterhorn
Super Reviewer
½
Very interesting movie. Perfect formula for an asian movies, it has beautiful actresses and great fight. Shu Qi did a pretty good job in this movie.
Steven Vincent Gee
Super Reviewer
Jopog manura 3 (My Wife Is a Gangster 3) Quotes
There are no approved quotes yet for this movie.