Jug Face
(2013)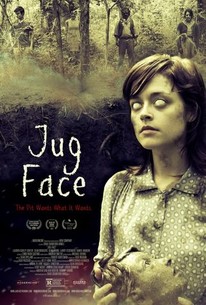 Movie Info
JUG FACE tells the story of a pregnant teen trying to escape a backwoods community when she discovers that she may be sacrificed to a mysterious pit. The entity in the pit requires a life for keeping the community safe. The face of the person to be sacrificed is crafted onto a ceramic jug. When ignored, the entity unleashes an evil onto the community. Now no one is safe as tragedy befalls each member one by one and they soon realize that the pit wants what it wants. (c) Modern Distributors
News & Interviews for Jug Face
Critic Reviews for Jug Face
Audience Reviews for Jug Face
Never make a pact with a demon, fine we all know that, and this little horror movie, despite a rather curious idea (the pit, especially), doesn't have much to offer beyond that and doesn't work in any level - not as a tense slow-burn nor as an creepy hillbilly sect story.
Carlos Magalhães
Super Reviewer
Much like Magic Magic, an underrated psychological horror film if you ask me with an incredible performance from Juno Temple, I can't quite wrap my head around the poor audience reaction to this film. Is it the minimal gore that threw people off? Or was it the more low-key approach, that took a more deliberate pace to how it built its tension. Technically, this film isn't great. This isn't really a masterpiece by any means, it's not the Gravity of low-budget horror films. But it succeeds where so many others fail and that is knowing how to properly build to its climax. Problem with so many horror movies nowadays is that they blow their wad so early that by the point they DO get to the climax it has already overstayed its welcome and it pales in comparison to everything that came before it. That's a HUGE problem with horror in general, sometimes the climaxes just don't deliver. This is a film that certainly delivers the goods, you could say. On top of that you have a damn good cast. I'm, somewhat, reminded of We Are What We Are, it just has that same Southern Gothic style. The former is definitely more technically proficient than the latter, but I enjoyed both films. This doesn't really offer anything all that new in terms of storytelling, but it is told in an effective manner nonetheless. One aspect of the film I enjoyed was how this wasn't a group of superstitious hillbillies that worshiped a pit in the forest, and sacrificed lives frequently, in order to keep a non-existent beast at bay. There really IS a beast and it really demands a sacrifice in order for it to heal the community from any illnesses that they may have. It can't just be ANY sacrifice, however, which is where the name comes from. Dawai, played by the always talented Sean Bridgers, is the chosen potter by the beast. Dawai is given a vision and then he creates a jug with a person's face on it. The person whose face is on the jug must be the person sacrificed. There's this underlying theme of control and order to this sacrifice and that's something you don't see often in horror films. I have no idea why, but I liked that a lot actually. There is a method to the madness. But, and I realize this is my own doing, I was definitely really interested in the back story of this community and how they came to worship the pit. How'd they find out about this? Yes, you saw during the opening credits how it, somewhat, came to be, but I wanted it in a little more detail and not crudely drawn paintings. But I can't hold that against the movie. With that said, this isn't a crowd-pleasing horror movie, perhaps that also had to do with the reaction, I'm not gonna spoil everything but let's just say that if you enjoy dastardly villains getting their comeuppance, that shit doesn't happen here. Not going into the specifics, but that's something to warn you with. Still, while this is probably still just a good horror film at its best. It just doesn't really do enough to be more than just good. It doesn't have that 'Wow' moment that made We Are What We Are such a memorable film. If you saw that movie, then you know what I mean. There's nothing here, while it's all very well done, that you'll remember for more than a week. Still, I found myself enjoying this movie quite a bit. It's quite good indeed and another sign that horror is alive and well on the indie scene.
Jesse Ortega
Super Reviewer
MisterYoda ?
Super Reviewer
Jug Face Quotes
There are no approved quotes yet for this movie.