Mowgli: Legend of the Jungle
(2018)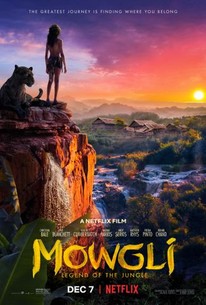 TOMATOMETER
AUDIENCE SCORE
Critic Consensus: Mowgli: Legend of the Jungle brings impressive special effects to bear on the darker side of its classic source material, but loses track of the story's heart along the way.
Mowgli: Legend of the Jungle Videos
Mowgli: Legend of the Jungle Photos
Movie Info
Acclaimed actor and director Andy Serkis reinvents Rudyard Kipling's beloved masterpiece, in which a boy torn between two worlds accepts his destiny and becomes a legend. Mowgli (Rohan Chand) has never truly belonged in either the wilds of the jungle or the civilized world of man. Now he must navigate the inherent dangers of each on a journey to discover where he truly belongs. Christian Bale, Cate Blanchett, Benedict Cumberbatch, Andy Serkis, Freida Pinto, Rohan Chand, Matthew Rhys and Naomie Harris lead an all-star cast in this visually spectacular and emotionally moving adventure.
News & Interviews for Mowgli: Legend of the Jungle
Critic Reviews for Mowgli: Legend of the Jungle
Audience Reviews for Mowgli: Legend of the Jungle
An engaging take on the old Kipling tale, helmed by Andy Serkis (of "nobody knows who I am cause I always wear so much makeup" fame), a CGI-rendered jungle extravaganza. Fun. Try and guess the voices behind the animations.
Kevin M. Williams
Super Reviewer
Due to the fact that this film has been released on Netflix, I fear that many people will see the release of Mowgli as a film that's just ripping off the idea of Jon Favreau creating a live-action version of The Jungle Book back in 2015. While it does seem that way on the surface, this is a film that was in production at the same time, but since Disney was the larger company backing the film, Mowgli was put on the shelf for a few years. While I personally don't believe this movie is quite as well-made as The Jungle Book (2015), I also think it's a real shame that this movie didn't make it to theatres worldwide. Released by Netflix, people are now able to experience this new version of that classic tale and I think it's well worth your time. Lost as a child, young Mowgli (Rohan Chand) is adopted by a pack of wolves and raised in the jungle. Befriending many different species of animals, he grows up to learn their languages, not knowing that he's really a human. This film explores the classic story points of the original classic, with hints of the sequel, and a fresh third act that has been tinkered with to fit a darker storyline. This is where I felt the film excelled the most. Deviating from the source material is what's needed when you're trying to be original with something that has been done so many times in the past. This is a much more gritty and realistic take on this premise, and if it wasn't for Jon Favreau's version a few years ago, this would easily be one of my favourite renditions of this story. Sadly, Mowgli does suffer from looking far too similar to the Disney version and the motion capture isn't quite as perfected as it was in that film either. Aside from taking a few risks in terms of storytelling, this movie falls just short of everything that has already been done in 2015. That being said, I truly believe this movie would've been talked about more and much more well-received if it had stuck to its original release date and attempted a theatrical run. This is a film that clearly had hard work put into it and I believe the final product accentuates that very strongly. Where I was most impressed with this film was in the performances. While I appreciated Neel Sethi very much in the role of Mowgli back in 2015, Rohan Chand is far superior in my opinion. Due to the darker nature of this film, he is given a few opportunities to shine and he shows that he really has range, and acting against nothing even solidifies that more so. With the addition of vocal talents in Christian Bale, Cate Blanchett, Andre Serkis, Benedict Cumberbatch, and Naomi Harris, I was enthralled whenever any of the animals were speaking. There are some genuinely terrific characters moments between these animals and this is something that Andy Serkis has clearly perfected throughout his career as an actor. He has now stepped into the director's chair and I think this was a great first outing for him as a feature filmmaker. In the end, Mowgli isn't going to make many top ten lists for the year of 2018, but if you're looking for a deviation of this story and have enjoyed past renditions, I can recommend this quite highly. That being said, the core story is pretty much everything you've seen before. Mowgli is constructed in a memorable and new way which makes it so enjoyable, but if you're looking for a completely fresh movie, you won't find it here. I really enjoyed watching Mowgli for what it was. It's now streaming on Netflix and I think it's worth your time.
½
No doubt there are some parts that are disappointing; for example: I wish there were more scenes with Mowgli's adoptive mother rather than the greedy hunter. Also, I felt that I was rewatching the Favreau film, which was more impressive visually and had also scary moments. Speaking of which, Idris Elba's Shere Khan is far more frightening that Benedict Cumberbatch's. But still the Serkis film is great, it succeeds in capturing the essence of the Kipling stories, and benefits from a talented cast, especially Rohand Chand as Mowgli, who was amazing. Despite its numerous flaws, I loved it!
Serge Elia
Super Reviewer
Mowgli: Legend of the Jungle Quotes
There are no approved quotes yet for this movie.