Katy Perry: Part of Me
(2012)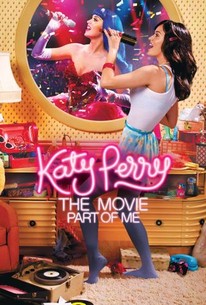 TOMATOMETER
AUDIENCE SCORE
Critic Consensus: Katy Perry: Part of Me succeeds on the strengths of the pop star's genuine likability, inspiring work ethic, and dazzling stage show, even if it plays somewhat like a PR puff piece at times.
Katy Perry: Part of Me Photos
Movie Info
A3Dmotion picture event movie,Katy Perry: Part of Me is a backstage pass, front row seat and intimate look at the fun, glamorous, heartbreaking, inspiring, crazy, magical, passionate, and honest mad diary of Katy. -- (C) Paramount
News & Interviews for Katy Perry: Part of Me
Critic Reviews for Katy Perry: Part of Me
Audience Reviews for Katy Perry: Part of Me
I am not personally the biggest Katy Perry fan, neither do I frequently listen only to pop music, because I lean more towards alternative and classic hard rock, BUT I do know all the Katy Perry discography and have listened to her songs on the radio since the infamous, "I Kissed a Girl." She is everywhere, whether in a positive way or negative and through it all this film shows she doesn't care. She doesn't care if you think her songs are repetitive, that her costumes look like the bargain bin at a clown costuming shop, or that she can't sing. She blows through all that hate and this documentary won't even give haters the dignity to be onscreen. Instead it's about Perry's rise to fame, her rough start, her life as a performer, and briefly even touches on her marriage and divorce at the time of filming. Katy Perry shows herself as a positive role model for children, teenagers, and adults alike, puts on one hell of a show, and all the while remains exhausted thanks to a lengthy tour schedule and her divorce from comedian Russell Brand. They show a lot of scenes where the married couple are so loving, and close, and the film even builds up that love story. Astonishingly enough, during the divorce from Russell Brand we get to see Perry break down moments before getting on stage for a giant concert and then do it all anyway, one of the most poignant moments of the film. More than that we get to see who Perry is, fusing both biography and concert film. She started in gospel, and amazingly enough tried to release an album that has music even I would be drawn to, apparently inspired by Alanis Morisette. She was blocked repeatedly, and eventually made this confectionary sugar laced music, which made her huge. I thought the concert footage was great, that she showed her true self and not just the happy face she puts on for fans and the audience, and that takes a lot of guts. No matter what you think about her music, as a person she shows herself to be genuine and sweet, which makes this all the more enjoyable.
Spencer S.
Super Reviewer
Be yourself and you can be anything. Good documentary movie! Like her music or not, this film is so much more than that. This is a behind the scenes look at the side of music you don't see very often. Every star has their ways of doing things, but here seeing what Perry, and obviously many others like her go through both personally and physically to deliver what the fans clamor for should give you a new respect for both her and the performers in general. What's really crazy is that you can't help but enjoy this movie due to the simple fact that it exhumes joy on every level. It's like you fell off a cloud into a real life candy land and will bring a smile to your face. More of a music documentary than a concert video, Katy Perry: Part of Me chronicles Perry's year-long California Dreams World Tour in 2011 with an abundance of personal interviews, film of Perry interacting with her fans, and concert footage from California and around the globe. Absolutely bursting with energy, Perry's a fascinating singer, songwriter, and performer who's faced a fair amount of adversity in her career, and whose upbringing was very different than that of most pop stars. This film plays at times almost like a video diary. Perry philosophizes about everything from growing up in a strictly Pentecostal Christian family to her fairy-tale outlook on life, costuming choices, how her own experiences and emotions influence her lyrics and music, her drive to remain true to herself, and the difficulty of sustaining a long-distance marriage with actor Russell Brand. There's also plenty of footage with Perry's costumers, makeup artists, various assistants, and friends, including actress Shannon Woodward. But some of the most interesting interviews are those with her sister Angela Hudson, who travels with show, and her mother and father regarding their commitment to accepting and supporting Perry and her career despite potential conflicts with their religious views. One discussion that's oddly omitted is any hint of why Perry changed her name. While the personal and backstage footage is heartfelt and quite intriguing, the film seemed somewhat lacking in actual concert footage, though viewers are treated to at least parts of "Firework," "California Gurls," "Part of Me," "Last Friday Night," and "Peacock."
First thing first, I'm not a big fan of her type of music, but Katy Perry does have some good songs. You can't deny over the last few years she has probably had more hits(good hits anyway) than anybody. "Part of Me" is a documentary following her on her latest tour. It gives a look at her past, her on and off stage, and you get to see her life through the ups and downs. Not sure how much is genuine and what was a put on, but it's very entertaining and interesting to see her at the beginning when things are great, then at the end when her marriage is falling apart and the tour is coming to an end. I like music documentaries like this, and while not one of my favorite, it is better than most. Perry comes out as a good natured person, and as my wife says "really down to earth". The scenes where she is interacting with fans are great(especially one with a make a wish kid). If your not a Perry fan, you could be after watching this. If your a fan, then this is definitely for you. It was made in 3D, and I didn't get a chance to watch it in 3D but I'm sure the concert footage really popped(especially when her boobs spin, yeah I said it). Good flick that all music fans will probably enjoy.
Everett Johnson
Super Reviewer
Katy Perry: Part of Me Quotes
| | |
| --- | --- |
| Katy Perry: | Sometimes we say forever. But it's easier to say than to do. |
| | |
| --- | --- |
| Katy Perry: | if you can believe in something great, then you can achieve something great |
| Katy Perry: | If you can believe in something great, then you can achieve something great. |
| | |
| --- | --- |
| Katy Perry: | A baby can't have a baby. |
| | |
| --- | --- |
| Katy Perry: | I am not going to be someone that I am not. |