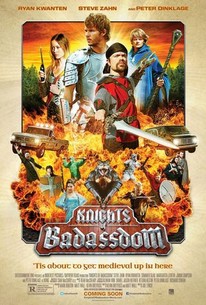 Knights of Badassdom
2014, Comedy/Adventure, 1h 25m
16 Reviews
2,500+ Ratings
Where to watch
Rent/buy
Rent/buy
Rent/buy
Rate And Review
Knights of Badassdom Photos
Movie Info
Three best friends (Peter Dinklage, Ryan Kwanten, Steve Zahn) must find a way to vanquish the evil entity they summoned during a live-action role-playing game.
Rating: R (Sexuality|Language Throughout|Horror Violence|Some Drug Use)

Genre: Comedy, Adventure, Fantasy, Horror

Original Language: English

Director: Joe Lynch

Producer: Mark Burton, Kevin Dreyfuss, Matt Wall

Writer: Kevin Dreyfuss, Matt Wall

Release Date (Theaters): limited

Release Date (Streaming):

Box Office (Gross USA): $86.8K

Runtime:

Distributor: Entertainment One
Audience Reviews for Knights of Badassdom
With some pretty decent laughs, but overall superficial roleplaying comedy. One just can't always be entirely sure if the movie is making fun of things or celebrating them. It's amazing how many genre heroes they got to play in this. The result works as comedy, not very much as horror film and would have been so much more fun with a few more pop culture references and less predictability.

This film had such marvelous potential to satirize and lampoon, but it really didn't measure up. There are funny moments in the film, but few of the jokes were particularly clever. The story is more silliness than satire, which is a mistake for this type of geek-targeted film. Special effects and makeup were moderate-to-low budget. As for acting, Zahn and Simpson were the only good performers. Kwanten seemed to be reprising his "True Blood" role as Jason Stackhouse with geeky friends. Dinklage is given no opportunity to showcase his abilities. (I would have loved to see Dinklage turn in an overly dramatic, high fantasy performance in the style of "Game of Thrones", playing a truly dedicated fantasy geek on a damn-the-world holiday. Alas! The Fates decreed otherwise -- Dinklange's character was nondescript and could have been played by almost any Joe Schmoe.) Overall, the film was a bit funny but its potential was sorely unfulfilled.

You know, say what you will about LARPers, but this seems like it would actually be a lot of fun to try. If you play a lot of videogame RPGs, like Skyrim, or even tabletop games like Dungeons and Dragons, then you're more open to this. I don't think I could ever dedicate as much time as some people do, but this would be so much fun to try at least once. You know with the week's news, which I'm not going into because it's just destroyed my faith in humanity and the justice system we have in place, I REALLY needed something silly and goofy to watch and this is what I came to. To say it's exactly what the doctor prescribed would be an understatement. Yes, I thought the movie was just good, but it was still exactly what I needed to get me out of my doldrums. But, and I realize there's differences between the films themselves, I'm really reminded of Unicorn City when I watched this. For those unfamiliar with Unicorn City, the concept is mostly the same, it focuses on a group of LARPers doing shit. The only difference being in that this has some horror elements with the succubus being summoned by Eric, whereas Unicorn City doesn't and instead relies fully on its script and its cast to carry the concept. Now, I'm not saying that one is easier to do than the other, particularly that the concept of LARPers in films is still relatively unexplored, but I found myself enjoying Unicorn City much more than this one. It's almost really unfair to compare them, since both are trying to achieve different things, but it's gonna be inevitable, particularly if you saw both movies. That's not to say that this movie isn't fun, because it sure as shit is, and there's some surprisingly decent gore in here as well. So it works both as a horror movie and a comedy. It's not like this is the best comedy of the year, mind you, but it is a good one nonetheless. The cast is really damn good, easily one of the strongest parts of the film. You can't really go wrong with Peter Dinklage, Summer Glau, Steve Zahn, Ryan Kwanten, and Jimmi Simpson. Out of all of those, most would be surprised to find out that Jimmi Simpson was the one who completely stole the show. This guy is pretty frickin' great in this and he easily has some of the funniest lines, or moments, in the entire film. He was just tremendous here. He completely elevates the jokes past their initial potential. I can't really accurately describe how great he is here, you'll just have to see for yourself. And it's not like the rest of the cast are scrubs. They don't get as many great lines as Jimmi, but it was obvious that they were having fun, which is one of the most important factors in a comedy that is completely underrated by people. Well, if it's one of these types of films. You won't look for the cast to be having 'fun' in a movie like Eternal Sunshine of the Spotless Mind, for example. In a silly movie like this, it's completely necessary. This is no different, the cast was having fun doing these silly things and it comes across in the final edit of the film. This movie is certainly flawed, it's a little inconsistent at the start and I don't think it truly goes as far as it could with its concept, but that's not meant to deter you from watching this. The film is well-written, appropriately goofy, and well-acted. This movie tries its hardest to branch out of its niche setting, in order to make it more watchable for more people. The more eyes you can get on your movie, the better, right? It doesn't always work, but I think the film does a solid job at this. I think that this movie will probably appeal to more people than Unicorn City, a superior movie. Don't misunderstand me, though, this is a fun little flick and I would recommend it if you have Netflix.

One of the most purely unamusing films I have seen in quite a while. One of those 'mindlessly fun' films that leaves you feeling sick, vacant, older and slightly ashamed. The attitude to LARPing is sneeringly condescending, as though devised by derisory frat-boys, the talented comic actors Zahn and Dinklage are wasted on a script free of laughs, Kwanten is hopelessly miscast as a supposed rock-fan couch potato (he still looks like he does three hours of Crossfit to David Guetta every day,) the horror elements are rubbery and amateur without being endearingly campy, and the body-count is unpleasantly high. It's too nasty to be a comedy, it's not scary enough to be horror, it's too unkind to be a tribute to anything and it contains some of the worst 'movie metal' I have ever heard: guaranteed to make any true believer's ears crawl off his head and down the nearest toilet. Avoid like the Black Death.
See Details