Kolobos
(1999)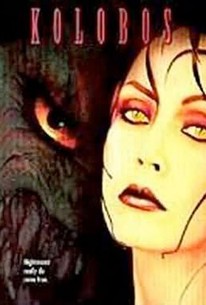 AUDIENCE SCORE
Critic Consensus: No consensus yet.
Movie Info
MTV's The Real World meets A Nightmare on Elm Street in this independent horror opus. Five young people accept a film crew's offer of three months' free room and board in exchange for having their waking hours filmed as part of an experimental video project. Aspiring actress Erica (Nichole Pelerine), funny man Tom (Donny Terranova), sometime college student Gary (John Fairlie), fast food worker and party girl Tina (Promise Lamarco), and eccentric artist Kyra (Amy Weber) move into a fully furnished but remote home in the mountains, where the other housemates discover that Kyra is a bit more eccentric than they imagined. Kyra has mysterious scars on her wrists, and she shows her new friends her deeply disturbing paintings of a faceless man hunting down innocent victims. But Kyra doesn't tell them that the faceless and bloodthirsty man has been haunting her dreams for some time -- and that he may not be a figment of her imagination. Kolobos also features scream queen Linnea Quigley in a supporting role; it was the debut feature for the directorial team of Daniel Liatowitsch and David Todd Ocvirk. ~ Mark Deming, Rovi
Critic Reviews for Kolobos
There are no critic reviews yet for Kolobos. Keep checking Rotten Tomatoes for updates!
Audience Reviews for Kolobos
A young artist Kyra lays semi-conscious in a hospital bed.She was brought savagely slashed and battered,uttering one word 'Kolobos'.36 hours later Kyra,enticed by a free vacation offer,participates in an experimental film.Unfortunately she and the rest of the cast soon discover that they are trapped in a lodge with sealed doors and windows and no means of escape.One by one,they encounter a vicious killer with a mutilated face."Kolobos" is a pretty good experimental slasher which reminds me a little bit another unsettling horror film "My Little Eye".The acting by totally unknown cast is decent and the killings are very gory and sadistic.The film is heavily influenced by Italian giallos,especially the works of Dario Argento and this is another reason to see it.The musical score by William Kidd clearly copies the main theme by Goblin from "Suspiria".The death scenes are gruesome including nasty teeth-smashing straight from "Deep Red" and a horrific eyeball puncture ala "Evil Dead Trap".The film offers some surreal scenes and enough grisly surprises to satisfy fans of low-budget horror.Give it a chance.
Cassandra Maples
Super Reviewer
Kolobos Quotes
There are no approved quotes yet for this movie.