Lady Terminator
(2003)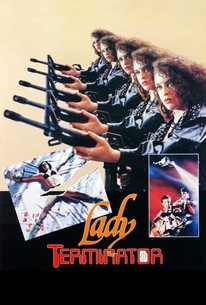 AUDIENCE SCORE
Critic Consensus: No consensus yet.
Movie Info
An Indonesian spirit uses the body of her enemy's granddaughter to fulfill a 100-year-old curse of death and destruction.
Audience Reviews for Lady Terminator
You may think that from the title of this movie it's a rip off of The Terminator (1984). And you would be partly correct, there are times when the movie rips off scenes from Terminator, but overall it's not an exact replica. Now, this movie is very unintentionally funny, but that's just part of the fun of it. There is tons of over the top action, sex, and acting too, but like I said, it's all very fun. I loved who very 80s this movie was too, the sets, costumes, cars, etc. just screamed 80s. If you want a low budget action movie with tons of blood and beautiful girls, catch this fun flick, it's highly enjoyable.
The moral of the story is, never steal a lady's (or an anthropologist's) genital eel.
vieras esine
Super Reviewer
½
Oh man, this is, like, the stupidest movie ever. But that doesn't stop it from being awesome! This was the second movie in a grindhouse cinema's double feature night, the first movie being The Terminator. This movie makes much more sense if you assume that it has nothing whatsoever to do with James Cameron's movie and is just made by a guy who has seen it and liked it. It's about a woman who's possessed by some sort of nymphomaniacal aquatic goddess that has taken it upon herself to single another woman out for death. And who has very blurry aim. There are a lot of visual references to The Terminator, including the casting of an actor who really really looks like Michael Beihn as the bodyguard of the doomed woman. They recreate many scenes from the other movie as well, but changed the story so much, thus making it nonsensical and incomprehensible. It's totally worth seeing.
Emily Armstrong
Super Reviewer
Lady Terminator Quotes
There are no approved quotes yet for this movie.