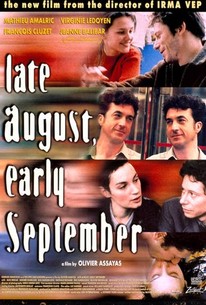 Late August, Early September
1998, Drama, 1h 51m
23 Reviews
500+ Ratings
Where to watch
Subscription
Rate And Review
Late August, Early September Photos
Movie Info
Adrien (François Cluzet), a writer who has had only marginal commercial success, discovers that he is dying and tells his friend Gabriel (Mathieu Amalric), with whom he has had a tumultuous relationship. Gabriel tries to attend to his friend while making sense of his complicated romantic life, torn between dependable Jenny (Jeanne Balibar) and volatile Anne (Virginie Ledoyen). Meanwhile, other friends of Adrien struggle to assess their lives and careers in the wake of his revelation.
Audience Reviews for Late August, Early September
I see the word "sublime" used in reference to this movie. Sublime is not the word I'd choose here. If anything, I'd place this in the anti-sublime camp. If there is any kind of transcendence in this film -- outside of death, it comes at the very end, where Vera, the 16-year-old ex-lover of the 41-year-old Adrien appears to finally find true happiness with a boyfriend in her own age range. <p>To qualify as sublime, I think a work needs to be rising above the mundane, the quotidian, the commonplace. I associate it with some kind of happiness, with joy, with a space positively positioned above the fray of the everyday. Rogers and Astaire dancing above all, every time they dance, is a sublime activity, for instance, elevating them almost into the realm of surreal bliss, both for them and for the audience. Ironically, the only real joy that can be found in this story is the joy of Vera dating a boy her own age -- what might be considered commonplace in any "normal" context. <p> This story reminds me of a pinball machine, with characters, none of them very thrilled with their lives, bouncing off of each other in a kind of random existential dance. In pinball, the downer is game over, the end of the game. Here, again almost ironically, the end of game is signaled by a pure expression of love at the close.
See Details