Least Among Saints
(2012)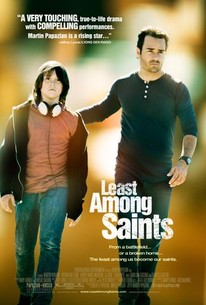 Least Among Saints Videos
Least Among Saints Photos
Movie Info
Returning home to a broken marriage and an uncertain future, combat veteran Anthony Hayward (Papazian) believes there is no hope for himself. Yet when a troubled ten year-old neighbor, Wade (Tristan Lake Leabu), calls out for help, Anthony cannot turn away. To the dismay of the boy's social worker (Laura San Giacomo), Anthony sets out on a fool's quest to help this heartbroken and hard-to-reach child find his long-lost father. In the midst of this new mission - the first that seems to matter since his return - Anthony begins to come to grips with both the costs of war and the universal power of human connection. -- (C) Official Site
Critic Reviews for Least Among Saints
Audience Reviews for Least Among Saints
I would have thought this film might be worth something. Then I read IMDB's SYNOPSIS. It claimed the "award winning director" that created the film...blah...blah. So, I looked at his work history. The award winner was loading film into cameras in 2002. He has directed only one single film. Yes, this one. I looked at the box office. Gross brought in...in the 1,000s. No, I didn't forget any zeroes. It was likely made with a Sony hand-held digital video camera. The actors and actresses couldn't pull this film out of the mud if they all had stars on Hollywood Blvd (which they don't). I said, clearly, I did not want to watch this. But to avoid arguments, I at least played it. Now, I have bad dreams, upset stomach, headaches, and wish my life would end before I see anything else so lame and pathetic. So, don't watch it. and count your blessings. I, instead, recommend "The Encounter." A film, while not well known, at least has a good moral story.
Andrew Helyer
I highly recommend going to see this film. It is a beautiful story of raw suffering. It is the balance of responding to an opening when not much in your past has any relationship to it. It is mustering your courage to walk with the new and unknown. Instead of ringing his neck, he got a slam upside his head that grabbed his heart. He moved slowly, not always correctly, into the path of his courage â" and stumbled on some healing.
Gloria Lee
You must see Least Among Saints! It is obvious Martin Papazian poured his heart and soul into every aspect of this film. The story is heart-warming. I laughed, cried and felt genuinely moved. I loved it! Thank you Marty.
Erin Addison
Least Among Saints Quotes
There are no approved quotes yet for this movie.
Discussion Forum
Discuss Least Among Saints on our Movie forum!