Let Fury Have The Hour
(2012)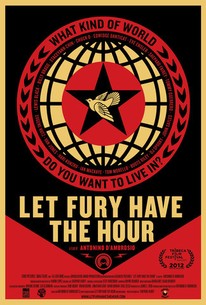 Let Fury Have The Hour Photos
Movie Info
Rough, raw and unapologetically inspirational, LET FURY HAVE THE HOUR is a charged journey into the heart of the creative counter-culture in 2012. In a time of global challenges, big questions and by-the-numbers politics, this upbeat, outspoken film tracks the story of the artists, writers, thinkers and musicians who have gone underground to re-imagine the world - honing in on equality, community and engaged creativity - in exuberantly paradigm-busting ways. (c) Cavu Pictures
News & Interviews for Let Fury Have The Hour
Critic Reviews for Let Fury Have The Hour
Audience Reviews for Let Fury Have The Hour
It's that time again - Documentary time. If you were around in the late 70's/early 80's, in either the US or UK, you will remember a political shift that transformed the world. The documentary, Let Fury Have The Hour, focuses on that particular era with interviewing over 50 artists (musicians, filmmakers, writers, playwrights, skateboarders, etc...) discussing the global collective shift of people rising up against rise of conservative movements of Reagan and Thatcher. Let Fury Have The Hour, written and directed by Antonio D'Ambrosio, starts off fairly heavy with its political statement and what happened to the youth and the change in mindset. It focuses on the extreme consumerism and individualism as the two negative aspects of the era because the sense of community was lost. So the time became: "All about me!" The children and young adults during that time were forced to make a creative response. Hence the rise of punk rock, graffiti artists, rap, etc... arose to counterbalance the new way of conservative thinking. If you grew up in this era or recall it as an adult I believe you will enjoy this documentary, especially if there were personal favorites of yours when it came to music, art, dance, etc...because it is always fascinating to learn what was the impetus of art and the artist's visions. However, it was a bit extreme in its approach to make its point, in my opinion, having so many people of a myriad of artistic venues discussing the elements of that era. It became a little overwhelming, and I would have preferred a series that focused on certain artistic branches (Music, Art, Writing, Film, etc...) in order to better understand the reactionary responses that took place during that time. Also, it brought it up to today's mode of thought which was a huge leap in time (30 years), and I have a feeling a lot of important, interesting and intriguing facts were lost. The list of artists is so long that I can only list a few of the artists who took part of Let Fury Have The Hour: Eve Ensler, Billy Bragg, John Sayles, Tom Morello, Lewis Black, Chuck D, Shepard Fairey, Suheir Hammand, Van Jones, etc..... It's a broad spectrum of talent that represented a need for change. And this documentary showed that the way of radical thinking during that time was pretty universal among the artistic community. The film opens December 14th in NYC, January 18th San Francisco and January 25th in Los Angeles. For more cities and dates, please check the website: Let The Fury Have The Hour Book: Let Fury Have the Hour: Joe Strummer, Punk, and the Movement that Shook the World - written by the director, Antonio D'Ambrosio.
Tired of Previews
Super Reviewer
Let Fury Have The Hour Quotes
There are no approved quotes yet for this movie.