Lights in the Dusk
(2007)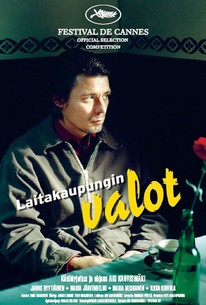 TOMATOMETER
AUDIENCE SCORE
Critic Consensus: From its brilliant cinematography to its compassionate characters, Lights in the Dusk is another successful exercise in deadpan minimalist comedy from Aki Kaurismäki.
Lights in the Dusk Photos
Movie Info
"Lights in the Dusk" concludes the trilogy began by "Drifting Clouds" and "The Man Without a Past". Where the trilogy`s first film was about unemployment and the second about homelessness, this final installment is about loneliness. Koistinen searches the hard world for a small crack to crawl in through, but both his fellow beings and the faceless apparatus of the society conspire to crush his modest hopes, one after another. Criminal elements exploit his longing for love and his position as a night watchman in a robbery they pull off, leaving Koistinen to face the consequences. Thus Koistinen is deprived of his job, his freedom, and his dreams. A poignant reminder of the lot of the emotional `have-nots` in our world, this dark jewel of a film glows with genuine warmth and a small but enriching glimmer of hope.
News & Interviews for Lights in the Dusk
Critic Reviews for Lights in the Dusk
Audience Reviews for Lights in the Dusk
½
An ironic, existential portrait of loneliness. From the start, Koistinen is painfully out of sync with his environment and ostracized by almost every person he encounters. The tight, lingering frame compositions, remarkably open and suggestive, emphasize this discordant, askew vision. Amidst this bleakness, hope triumphs in the final, life-affirming shot. A positive end to Kaurismaki's Loser Trilogy.
Stefanie C
Super Reviewer
[font=Century Gothic]Written and directed by Aki Kaurismaki in a deadpan style, "Lights in the Dusk" is about lonely Koistinen(Janne Hyytiainen), who has worked as a security guard for the past three years. Despite having neither experience or money, he wants to open his own security firm. One day, into his life walks blonde Mirja(Maria Jarvenhelmi) and they go out on a date. He falls for her but has no idea of her ulterior motive. Nor does he question the possibility that she is quite frankly out of his league.[/font] [font=Century Gothic][/font] [font=Century Gothic]Considering "Lights in the Dusk" is centered around a heist, it should come as no surprise that none of the characters see working for a living as anything remotely honorable. Mirja is employed by Lindholm(Ilkka Koivula), a gangster, who looks down his nose at Koistenen while using him to get the security codes for a shopping mall that he regularly patrols. Mirja is torn but fears having to actually work in a regular job too much to stop.[/font]
A night-watchman with a simple, lonely life is framed by mobsters.
Ross Collins
Super Reviewer
Lights in the Dusk Quotes
There are no approved quotes yet for this movie.