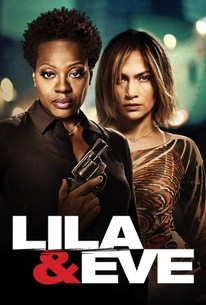 Lila & Eve
2015, Mystery & thriller/Crime, 1h 34m
40 Reviews
1,000+ Ratings
What to know
critics consensus
Lila & Eve gets some mileage out of its formidable stars, with Viola Davis in particular proving that she will commandingly commit to any material, but this is a revenge flick served stale due to a lackluster script. Read critic reviews
Where to watch
Rent/buy
Subscription
Rent/buy
Rate And Review
Movie Info
After the senseless murder of her son (Aml Ameen), a grief-stricken mother (Viola Davis) joins forces with another woman (Jennifer Lopez) for vigilante justice.
News & Interviews for Lila & Eve
Audience Reviews for Lila & Eve
Technically speaking, this is my 2900th review on this website. But, really, I should already be past 2900 reviews. The last movie I watched prior to this one was a South Korean suspense thriller (Circle of Atonement, which is on Amazon Prime) that's not available to review here. And that's not the only one I've seen recently that isn't on here. There's plenty of films that I've seen that I haven't reviewed for that very reason. That's neither here nor there, really, it's not like it matters in the long run, but it's something that's worth pointing out. Part of me always tries to make these 'momentous' reviews special. Or at least I try to watch a film that's special in order to make the review more memorable, for me at least, since it's not like I have regular readers. Sometimes it works out (don't ask me, since my memory is absolute shit) and most times it doesn't work. This is one of those times where it certainly did not work. That's not to say that this movie is bad, it's actually a perfectly decent movie, it's just not even remotely memorable or special. Where do I get started? I suppose I should begin with the surprising fact that this may actually be Jennifer Lopez's best performance yet. I realize that's not saying much, since Lopez isn't actually a great actress (or even a good one), but she's legitimately good here. I suppose given the fact that Lopez is, in fact, a mother and she can relate to a script like this. I don't even have to say anything about Viola Davis, she is tremendous here, as she always is in everything she does. Viola and Jennifer are, really, the only reason the film gets the rating it did. Because as far as vigilante/revenge thrillers go, this is a fairly second rate movie. I wish that didn't sound as derisive as it does, but there's nothing even remotely special about this story. It's as straightforward as it sounds. Two mothers, Eve (Jennifer Lopez) living vicariously through Lila (Viola Davis), go on this journey to avenge the murder of Lila's son, who was just in the wrong place at the wrong time. The story is simple and a little impersonal in that Lila and Eve just go from A to B to C. Everything they do leads them one step closer to the person who's actually responsible for Lila's son's death. And I just didn't find that it worked, because it's got sort of a mechanical feel to it. Like there's no life or inspiration to any of it. And there's even the built-in angle of Lila and Eve are causing many mothers to go through exactly the same thing that they went through, regardless of the fact that a lot of these people murdered aren't precisely innocent. And they do actually tease some of that, as the mother of two of the people Lila murdered goes to her support group (which is where she met Lila). The problem with the fact is that there's no real moral conundrum here, there's just that one scene. Lila and Eve never once struggle with the consequences of their actions and the harm they are bringing to other families. I suppose the movie tries to juggle many themes, but this is the most interesting one of them all and they just completely drop the ball on this one. Lila also has to deal with another son that she is failing to give proper attention due to this her search for justice. There's, obviously, a detective going around investigating the murders of these drug dealers and trying to find the connection between all of them. Another big problem with the narrative is that it has this twist, a twist that I'm sure most of you will see coming from a mile away. You'll notice very early on that no one who's close to Lila have ever met Eve and that's a big clue. In fact, you can say that I just spoiled the entire twist. And, honestly, I don't know how I feel about it. Because sometimes this 'it was all construct of a warped person's mind' can feel cheap, but it can also work like it did in Fight Club. It's half and half here, because Eve was a character that was essential to moving the narrative forward. Lila needed a part of her to justify her actions and she created Eve, as a result of her grief and anger, to give her that outlet to do precisely what she wanted to do to the people who murdered her son. There's the other side of the coin, where there are occasions, like when Lila and Eve first meet, that Lila is talking to a person that isn't there at all. I honestly can't recall if the support group meeting let out or Lila just left early, but it's a little weird. All the other meetings take place, mostly, away from prying eyes, like at Lila's house. So it works and it doesn't, but I can sort of buy into Lila's mind being so fragile enough that she'd do what she did. And that is all because of Viola Davis' performance, she makes it work even if there's more questions to be asked than answers. But, I digress, I can't really say enough about this film. Viola and Jennifer certainly elevate a below average script and they help make this into an average movie. I can't really say you should go out of your way to see this, but at least you get some great performances for your troubles, even if the film isn't what I would call good.

Dark and edgy, Lila and Eve is a fairly decent psychological thriller. After her eldest son is killed in a drive-by shooting, Lila seeks out a victim's support group for mothers where she then partners with a sponsor who feeds her urges for vengeance. Jennifer Lopez gives a strong performance, but the rest of the cast isn't much more than serviceable. Also, the plot is pretty convoluted, and takes some rather strange turns. However, the directing does a good job at creating tension and atmosphere. Lila and Eve has a few problems, but overall it's an entertaining revenge film.

The timing for the release of Lila and Eve may have been perfect, it's just a shame the movie wasn't. Jennifer Lopez I can understand, but Viola Davis is a multi-Academy Award nominated actress! I cannot for the life of me understand what drew her to such an underdeveloped script. If this wasn't straight to video, it sure as Hell should have been.