Live-In Maid
(2007)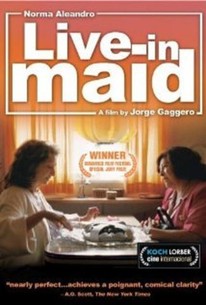 Movie Info
Dora is the maid of Mrs. Beba and has worked and lived with her for 35 years. Beba used to be a well-to-do socialite but successive economic and personal crises have worn her out, reducing her to a purveyor of decadence. Nowadays she finds herself forced to sell door-to-door beauty products. Her thick gold earrings, and her maid, Dora, are the last bastions of a lifestyle of which she refuses to let go. Dora came at 17 from the Chaco province to work as a full time maid at Beba's apartment. Since then she has managed to start building a house in one of the shantytowns outside Buenos Aires. However, she is unable to complete the construction of her own house because Beba owes Dora six months of salary. Dora, tired of listening to Beba's promises of payment, is now determined to resign. Beba asks her for more time to get the money together. Dora accepts. During this period Beba tries to mine the confidence of Dora, discouraging her not to venture into a new phase of her life.
News & Interviews for Live-In Maid
Critic Reviews for Live-In Maid
Audience Reviews for Live-In Maid
Poignant and masterful, Live-In Maid is an involving unorthodox presentation of the averse relationship, more appropriately, friendship, of an imperious bourgeois and a taciturn domestic attendant. Emotionally complex and ambiguous, Live-In Maid is transcendental of social class, precisely aware of the situation and disposition of the bourgeoisie in the times of economic recession and profoundly acquainted with the vicissitudes and realities of life. Emphatic.
Jan Marc Macababayao
Super Reviewer
A well crafted film study of declining social status and precarious friendships. Understated and subtle but brilliantly presented.
Randy Tippy
Super Reviewer
½
[font=Century Gothic]"Live-in Maid" is set around the financial crisis that crippled the Argentinian economy in 2001. Beba(Norma Aleandro) has not been able to pay her maid, Dora(Norma Argnentina), for the past several months. Beba is currently trying to sell cosmetics, as she desperately tries to hold onto her dignity and pride but they are fading fast. Dora has worked for Beba's family for the past 28 years but is getting frustrated at the lack of money since she would like her significant other, Miguel(Raul Panguinao), to pave the floor of his house.[/font] [font=Century Gothic][/font] [font=Century Gothic]"Live-in Maid" is a low-key observation on the nature of class in society. Beba and Dora come from very different backgrounds but in the film they both have something in common - a lack of money. At first, I would say the two women share a symbiotic relationship but could they actually be friends?[/font]
Live-In Maid Quotes
There are no approved quotes yet for this movie.