Lost Boys: The Thirst
(2010)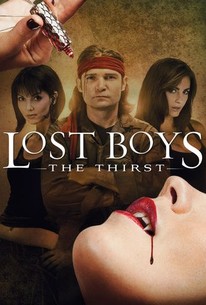 Lost Boys: The Thirst Photos
Movie Info
When an ambitious alpha bloodsucker disguises vampire blood as a designer drug in a bid to claim the entire planet in the name of the undead, it's up to Edgar (Corey Feldman) and Alan Frog (Jamison Newlander) to fight for the future of the entire human race. As the Blood Moon shines brightly in the midnight sky, the fearless vampire killers leap into action armed with enough tailor made weaponry to blast the demonic beasts into oblivion.
News & Interviews for Lost Boys: The Thirst
Critic Reviews for Lost Boys: The Thirst
Audience Reviews for Lost Boys: The Thirst
½
A slight improvement over the 2nd film, but that doesn't say much. It's good Feldman links the 3 films, but I have to say his acting is pretty poor. Nice the story is centered around him more in this one. The plot is a bit silly but the effects of the Vampire kills are ok and very Blade like, along with the Vampire club idea. There are a few flash backs to the original and a nice tribute scene to Corey Haim. A better sequel for the fans than the 2nd film, but still quite average overall.
½
"You'll never grow old, and you'll never die." Well, at least the second part of that entreaty from 1987's The Lost Boys continues to hold true. With Lost Boys: The Thirst, gravelly voiced nostalgist Corey Feldman return for a third time to, uh, stake his claim upon a "franchise" that shouldn't even be one. A cut above 2008's bloodless second stab, The Tribe, The Thirst at least benefits from putting Feldman (and returning original Frog Brother Jamison Newlander) centre stage. So, if you can ignore the charmless directing and inept plot, there's a thin thread that can be traced to the first film. Any goodwill is all courtesy of Feldman, who's made this needless threequel feel somehow personal, from the comic-book store locale and references to old characters, to an unexpectedly moving scene that pays tribute to Corey Haim.
Dean McKenna
Super Reviewer
½
An improvement over the second one, with a tighter script and hey, Jamison Newlander! With an end guaranteed to make you facepalm.
Lost Boys: The Thirst Quotes
There are no approved quotes yet for this movie.