The Lost World - Jurassic Park
(1997)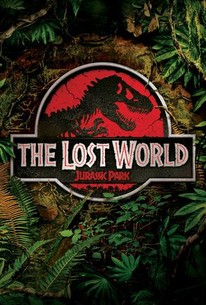 TOMATOMETER
AUDIENCE SCORE
Critic Consensus: The Lost World demonstrates how far CG effects have come in the four years since Jurassic Park; unfortunately, it also proves how difficult it can be to put together a truly compelling sequel.
The Lost World - Jurassic Park Photos
Movie Info
Just when you'd think that scientists would realize dinosaurs and humans don't mix, along comes The Lost World: Jurassic Park to prove you wrong. In this sequel, John Hammond (Richard Attenborough) summons chaos theorist and onetime colleague Ian Malcolm (Jeff Goldblum) to his home with some startling information -- while nearly everything at his Jurassic Park had been destroyed, engineers were also operating a second site, where other dinosaurs, resurrected through DNA cloning technology, had been kept in hiding. Hammond has learned the dinosaurs on the second island are alive and well and even breeding; Hammond wants Malcolm to observe and document the reptiles before Hammond's financiers can get to them. Malcolm declares he had enough of the dinosaurs the first time out, but decides to make the trip when he finds out that his girlfriend, paleontologist Sarah Harding (Julianne Moore), is already there. However, Ian and Sarah aren't the only visitors expected on the island; a camera crew led by ecological activist Nick Van Owen (Vince Vaughn) is on the way, as is Roland Tembo (Pete Postlethwaite), a world-class wild game hunter who is supposed to round up the dinosaurs and who hopes to bag a prehistoric trophy for himself in the process. This sequel to Jurassic Park boasted even more impressive special effects than the first film, though the acting and screenplay aren't always at the same level. ~ Mark Deming, Rovi
People Who Like this movie also like
News & Interviews for The Lost World - Jurassic Park
Critic Reviews for The Lost World - Jurassic Park
Audience Reviews for The Lost World - Jurassic Park
½
It tries too hard to become more serious, thus losing its adventurous tone and ultimately becoming a lackluster sequel. The Lost World - Jurassic Park may have some of the impressive visuals from its 1993 predecessor, but the dull narrative and less-than-effective edgier tone ultimately leads to the film's mediocre result. 2.5/5
Eugene Bernabe
Super Reviewer
½
After the success of the first film, everyone wanted to see more of what they loved, and here was Spielberg thinking it was a good idea to bring back everything people loved about the first one, while just recreating the same elements and not even half as good. This has got to be one of the biggest disappoints I have ever seen, because since the first film was so amazing, this one really needed to try something different, and the funny thing was that it did the exact opposite of that. Every second of this film, aside from the last 30 minutes, feels like a retread of it's predecessor. Even Jeff Goldblum acts like a 99 cent version of his character in the original. Sure the effects have improved and the budget has clearly increased, but the story is worse and the characters motivations are forced. I did not like this film at all, in fact I almost hated it.
½
With a darker tone and no shortage of fast-paced action thrills, Spielberg's 1997 follow-up to his original dino-classic manages to be a an underrated gem that is very much worth checking out for action junkies. Personally, I am shocked at the amount of hate this sequel has gotten over the years. While far from a cinematic masterpiece, it is levels above the abominable "Jurassic Park III" and in some respects a bit of an improvement over the original. One aspect that the sequel improves upon are the characters. Although far from spectacular, they posses a lot more charisma and a bit more layers than the first batch. Ian Malcolm, who was regulated to the sidelines in the original, is given center stage and the film is all the better for it, especially given Jeff Goldblum's more dynamic portrayal. Julianne Moore and Vince Vaughn also give decent supporting performances but Pete Postlethwaite steals the show as the thrill-seeking hunter Roland Tembo (also has probably the most fascinating character arc out of all the cast). Even the dinosaurs are given more characterization than the first, especially the velociraptors and the T-rexes. It's also a plus that the dialogue and banter yield a bit more emotional meat outside of just providing clunky exposition. The visuals and action are just as spectacular as the first and Spielberg follows the "Aliens" template of giving the audience more dinosaurs. My favorite sequences include the nerve-racking breaking glass sequence and anything involving the velociraptors (tall grass sequence). As far as plot goes, it does lack some originality (it's pretty much Spielberg's big budget remake of Sir Arthur Conan Doyle's "The Lost World") along with containing a few plot contrivances and ridiculous moments (Ex. velociraptor killed by gymnastics). Although to be fair, it's not like the first movie was lacking in ridiculous moments either. The closing San Diego sequence, while thrilling, did feel overall tacked on. Almost as if Spielberg desperately wanted to make a mini-Kaiju movie in the vein of Godzilla and he saw this flick as his only chance to do so. Ironically, the sequence ended up being a much better and more faithful representation of Godzilla movies than the crap-storm Roland Emmerich version that came out a year later. On a side note, John Williams provides the score once again but unfortunately the music feels phoned in and lacking in memorable ques. It doesn't end up being as moving as the first one. It's far from a masterpiece or a significant highlight in Speilberg's long and prestigious career, but it's a nice guilt-free slice of action/adventure fun nonetheless.
Christopher Heim
Super Reviewer
The Lost World - Jurassic Park Quotes
| | |
| --- | --- |
| Dr. Ian Malcolm: | It is so important that you do not finish that sentence. |
| | |
| --- | --- |
| Ian Malcolm: | [To Ludlow] Now, you're John Hammond |
| Ian Malcolm: | Now, you're John Hammond. |
| | |
| --- | --- |
| Ian Malcolm: | Hang on, this is gonna be bad. |
| | |
| --- | --- |
| Roland Tembo: | Let's get this moveable feast on the way! |
Discussion Forum
Discuss The Lost World - Jurassic Park on our Movie forum!