Loving Vincent
(2017)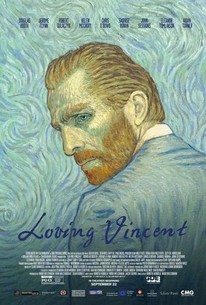 TOMATOMETER
AUDIENCE SCORE
Critic Consensus: Loving Vincent's dazzling visual achievements make this Van Gogh biopic well worth seeking out -- even if its narrative is far less effectively composed.
Movie Info
This feature-length painted animation -- the first film of its kind -- explores the life and unusual death of Vincent Van Gogh via depictions of his artworks. Directed by Dorota Kobiela and Hugh Welchman.
News & Interviews for Loving Vincent
Critic Reviews for Loving Vincent
Audience Reviews for Loving Vincent
Film critics tend to talk down on a film when it seems like the core idea of the film is a gimmick. Three-dimensional movies were the talk of the town about 10-15 years ago and have now become an annoyance to many. Loving Vincent is the newest film to try something new in terms of how it tells its story. Being completely painted by hand, this movie moves along as if it had been animated about 60 years ago. A more recent comparison would be to say it looks like A Scanner Darkly, but I truly feel this film's much more unique than even that. This is a wonderfully engaging premise and even without that aspect, here's why I believe everyone needs to see this film, even just based on the portraits alone. Loving Vincent tells the story of Armand, a young man who has been tasked with the devastating venture of delivering Vincent Van Gogh's final letter. Upon arrival of the town that Van Gogh ultimately met his untimely end, Armand finds himself incredibly interested in the mystery surrounding this death. Becoming more of an investigation film than a simple journey, Loving Vincent takes you on a ride that's full of insight and powerful moments between characters. I didn't think I would've been so moved by this movie, but the performances/voiceover work was truly astounding, sucking me right into this beautiful portrait of a film. It's one thing to commend this film for having truly breathtaking visuals, but that's also the understatement of the year. This movie blows away any animated film from last year in terms of being uniquely made. From the nods to Van Gogh's classic works, to the motion and dissolves between scenes, everything about this film felt seamless. That being said, there's a large obstacle that many viewers will have to get over as soon as the film begins as well, being the fact that it's entirely painted by hand. This wonderful aspect of the movie will definitely be off-putting to some, due to the fact that it's the first film of its kind and may be bizarre to look at. For myself, I found it absolutely fascinating, plain and simple. As someone who prefers other forms of art than paintings, I do admire a great piece of art, regardless of the medium. This movie explores a life that pretty much everyone has heard of at some point in time, and I must admit, I didn't know this story was as complex of a mystery as this movie suggests it is. From motivational speeches about life and the universe to questions brought up in a philosophical way, I was incredibly immersed in each and every one of the scenes throughout this film. There's hardly any downtime because every line of dialogue progresses this story forward at a rapid rate. In the end, Loving Vincent may not be for everyone, especially due to its unique look, but the story itself is something I believe everyone needs to see. There is a scene that closes out the movie that I still have playing over and over in my head. As I mentioned many times, this movie is filled with memorable lines of dialogue that truly makes you think about life itself and the universe surrounding us. This may seem biased and this particular reaction will surely not hit everyone the way it hit me, but I found this to be a remarkable picture. I fear this movie will go fairly unnoticed, which is a shame because literally, every aspect of this film is wondrous to behold. This is one of my favorite films of 2017.
A visual tour de force, this is a projection of Van Gogh's art by the 100 or more artists who painted every scene. It is rich with animations of the real-life actors, who are painted convincingly in the Van Gogh style, using scenes based on his actual and famous paintings, which spring astonishingly to life as the action arises. Alternating with the Van Gogh pictures are biographical flashbacks, which are painted or drawn in black and white photo-realism, again of a very high artistic quality. The story involves an inquiry into the circumstances of Van Gogh's death. In this, it is less satisfying dramatically, with loose ends, not grasping the nettle, and stopping short of an accusation of mortal envy. The Gachet interview scene seems too easy and forgiving. The alternative explanation of the fatal gunshot, a mischief by an errant youth, also lacks reality because the inquisitor never questions the (then) boy. The film apologises for the failure of those around Van Gogh to save him. This show is in no way humorous, yet it is recalls The Life of Brian, where Brian's followers parade by, complimenting him for sacrificing himself, instead of rescuing him. Here, the film dwells on Van Gogh's forgiveness of the unforgivable - "don't blame anyone" he is reported to have said, as he lay dying needlessly of an untreated gunshot wound, while several characters come by to see him. The film produces evidence that he was not suicidal, and that suicide was unlikely in the circumstances, and then it goes soft. The critical point about Van Gogh's art is his reach into the condition of the poor, farm workers, women and the hard struggle of life, and into nature. He related most easily with and lived among working people and peasants: in that sense he was a traitor to his class. To combine these sentiments with his artistic power must have driven his well to do friends to distraction, particularly those who wished they could paint. If as it seems Van Gogh also won the heart of a bourgeois woman, half his age, the resentment he inspired must have run deep. The film dips its toes into this unpalatable water, and then weakens, in favour of vague philosophising - was it just Vincent just being Vincent, and did it really matter whether he committed suicide or was killed. Really? Van Gogh's paintings were both sophisticated and fearless; he had enormous generosity of spirit. This film is loving compliance more than it is loving Vincent, and in the end it leaves him to the wolves.
½
Kind of like an oil painting "A Scanner Darkly" mixed in with a CSI episode, Loving Vincent is visually a stunner that explores the death of the great Van Gogh. Sure it could've been constructed on a computer but it took 150 artist to paint 65 thousand frames to realize this one of a kind gem.(10-14-17)
Loving Vincent Quotes
There are no approved quotes yet for this movie.
Discussion Forum
Discuss Loving Vincent on our Movie forum!