Luis Bunuel's Robinson Crusoe
(1954)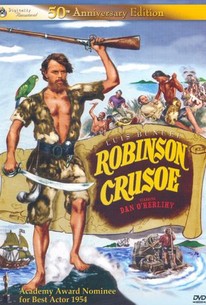 Luis Bunuel's Robinson Crusoe Photos
Movie Info
Exiled from his Spanish homeland, director Luis Bunuel set up shop in Mexico. Here he made his only American-financed film, The Adventures of Robinson Crusoe. This is a reasonably reliable version of the Daniel Defoe's novel about a 17th century shipwreck victim (Dan O'Herlihy) and his "Man Friday" (James Fernandez). Bunuel cannot resist tossing in his occasional barbs against the smugness of Society--though not so many as to scare away customers. The director's long-standing distaste with the church is discreetly manifested in a few brief scenes wherein Crusoe's faith in God wavers. Magnificently photographed in Pathecolor, Adventures of Robinson Crusoe was released in Mexico two years before its American distribution.
Critic Reviews for Luis Bunuel's Robinson Crusoe
Audience Reviews for Luis Bunuel's Robinson Crusoe
The best known version of the guy on a desert island trope (why don't they ever do a woman on a desert island ... or was that "Gravity"? Nevermind.) It's from the 1950's so be prepared for some racism casually thrown about, but not enough to make you sic yer pitbull on the TV set. Based on a real story, natch.
Kevin M. Williams
Super Reviewer
½
An atypical Buñuel that shows how the director was wrong for this kind of material. Despite the lushy colour photography, it has too little swashbuckling and excitment to keep fans of the adventure genre entertained and not enough of the Buñuel trademarks to keep his admirers scratching their heads. One can see the director's subversiviness creeping in beneath the surfice, but it must be questioned if the social commentary of bourgeois master and submissive slave (which contribute to a not all that likeable protagonist) is due more to the dated content of the novel or Buñuel's own beliefs.
Matheus Carvalho
Super Reviewer
½
[font=Century Gothic]"Robinson Crusoe" is an entertaining adaptation of the venerable classic wherein Mr. Crusoe(Daniel O'Herlihy), the third son of an affluent family, goes to sea to find his fortune in 1659, only to be shipwrecked on a deserted island. After a rough start, he makes the best of it by salvaging what he can of the ship's stores and creating a new life for himself ashore.[/font] [font=Century Gothic][/font] [font=Century Gothic]What distiniguishes this version is that it is directed by Luis Bunuel during his exile in Mexico. Curiously, it does not reflect Bunuel's attitudes towards religion, instead suggesting that Crusoe's being cast away is divine punishment for his serving aboard a slave ship, followed by his taking to the bible. Also, Crusoe's relationship with Friday(Jaime Fernandez) will always be at least a little problematic, as it could be read either in favor of imperialism or very much against it.[/font]
Luis Bunuel's Robinson Crusoe Quotes
There are no approved quotes yet for this movie.