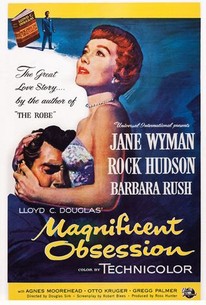 Magnificent Obsession
1954, Drama, 1h 48m
25 Reviews
1,000+ Ratings
Rate And Review
Magnificent Obsession Photos
Movie Info
Reckless playboy Robert Merrick (Rock Hudson) is in a boat accident, and his condition requires a resuscitator to save his life. Soon afterward Dr. Phillips has a heart attack and needs the same machine. Without it, Dr. Phillips dies. Due to his philanthropy and his wife Helen's accident, she (Jane Wyman) has very little money. Merrick then tries to right his wrongs with Helen --falling in love with her in the process -- and decides to turn to the study of medicine to become a surgeon.
Audience Reviews for Magnificent Obsession
Sirk was an expert at the melodramatic and I had the wonderful opportunity to see this on the big screen. There is cheesiness in some parts but it is sweeping in its camera angles and its charms.

This is a wonderful movie of the fifties, with a cast of stars that in today?s film world would be unheard off. The budget to get these stars together today would make anyone faint. Rock Hudson, Jane Wyman, and Agnes Moorehead. I grew up thinking Agnes Moorehead was a witches mother and she looked like one on Bewitched. But in this movie as in others from the fifties she proved to be a glorious actress. Rock Hudson plays the part of a young Millionaire with not a care in the world till his life is save at the expense of another?s. He then falls in love with the wife of the man who dies, and the only way to win her is losing his spoiled ways and obtaining a Magnificent Obsession. How can any film the Rock appear in be awarded anything less the 4 stars.

Expressive colours, Incredible emotions, dramatic twists. Not only is this film just beautifully shot but running through all this glamor is (biting?) social commentary. Plus Jane Wyman is one of the few people that really are cute and a button and Agnes Moorehead brings he engrossing presence too.

I wouldn't call Magnificent Obsession Douglas Sirk's best movie but it's still good. Like any other Sirk movie, it's pungent with melodrama and you'll often ask yourself if people really talk like this, even in the 50s. But the exaggerated imagery (again, like any other Sirk movie) is so gorgeous you find its shortcomings easy to forgive.
See Details