Magnificent Obsession
(1954)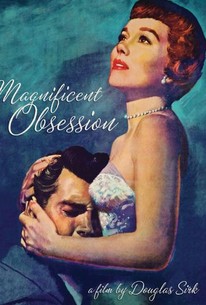 Magnificent Obsession Photos
Movie Info
In this film version of Lloyd C. Douglas' spiritual novel, Rock Hudson plays a reckless playboy who is indirectly responsible for the death of a kindly doctor. The dead man's wife, Jane Wyman, refuses to accept Hudson's apologies. When Wyman is blinded, Hudson decides to "do right" by her anonymously.
Critic Reviews for Magnificent Obsession
Audience Reviews for Magnificent Obsession
Sirk was an expert at the melodramatic and I had the wonderful opportunity to see this on the big screen. There is cheesiness in some parts but it is sweeping in its camera angles and its charms.
John Ballantine
Super Reviewer
This is a wonderful movie of the fifties, with a cast of stars that in today?s film world would be unheard off. The budget to get these stars together today would make anyone faint. Rock Hudson, Jane Wyman, and Agnes Moorehead. I grew up thinking Agnes Moorehead was a witches mother and she looked like one on Bewitched. But in this movie as in others from the fifties she proved to be a glorious actress. Rock Hudson plays the part of a young Millionaire with not a care in the world till his life is save at the expense of another?s. He then falls in love with the wife of the man who dies, and the only way to win her is losing his spoiled ways and obtaining a Magnificent Obsession. How can any film the Rock appear in be awarded anything less the 4 stars.
Bruce Bruce
Super Reviewer
½
Candy coloured melodrama which at the end of the day is actually rather good!
Magnificent Obsession Quotes
There are no approved quotes yet for this movie.