Man of a Thousand Faces
(1957)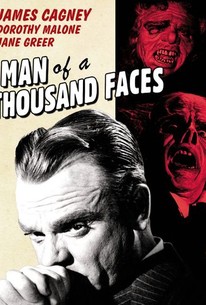 AUDIENCE SCORE
Critic Consensus: No consensus yet.
Man of a Thousand Faces Videos
Man of a Thousand Faces Photos
Movie Info
James Cagney stars as horror film legend Lon Chaney in this biographical portrait. The son of deaf-mute parents, Chaney earns his first success on the vaudeville circuit, where he learns the creative make-up skills that later earn him the titular nickname.
Rating:
R
Genre:
,
Directed By:
Written By:
In Theaters:
On DVD:
Runtime:
Studio:
MCA Universal Home Video
Critic Reviews for Man of a Thousand Faces
Audience Reviews for Man of a Thousand Faces
½
"Man of a Thousand Faces" is a film where a brilliant, well-known actor (James Cagney) take on the very difficult cast of portraying another brilliant, well-known actor. And Cagney does a magnificent job in bringing the role to life; however, he might be the sole quality that stands out as exemplary in an otherwise disappointing film. The film begins by informing the audience that celebrated actor Lon Chaney was so beloved that on the day of his death Universal Studios shut down for a day in his memory. We are then taken back to Chaney's childhood, where we have the chance to see the origins of this man who was so admired. It is here where the film begins to have problems. We learn that Chaney was the child of deaf parents, a fact that he was teased for often, and one that caused him to learn sign language as well as mimicry skills that would aid him much later in his career. We then fast-forward to his time on vaudeville as a clown, where he discovers that his wife, Cleva, at the time is pregnant, and reluctantly agrees to let her meet his parents. Upon learning his parents are deaf, the wife does not want to have the child because of the high possibility he could be born deaf as well. Chaney's first wife may be the weakest element of the film. Her objection to the child's possibly imperfection is pretty repulsive, and we are meant to know that because her delivery is excrutiatingly over-the-top and melodramatic. If this was a Douglas Sirk type picture where everyone is this extreme, this would be tolerable. But instead she sticks out as just bizarre and off-putting, while Cagney plays the scene as genuinely heartbreaking. The choice of music makes it more bizarre, as it is the soundtrack that would be used in a horror picture, not a moment of genuine drama. From this point forward the film seems to fall in and out of balance. Chaney loses his job on stage after Cleva attempts suicide and then flees, and he loses custody of his son for a time. He finally finds success in Hollywood as "The Man of a Thousand Faces", a master of makeup and mimicry that causes him to achieve a monumental level of success. This section of the film is probably the strongest; sure it seems to just spell out what Chaney was up to at the time and in some ways doesn't feel like it's going in any defined direction, but Cagney does it very well and replicates Chaney's classic roles beautifully........and then Cleva comes back in the picture, and the melodrama arrives once more, this time prompted by both Cleva and his now-teenage son Creighton (who would grow to become Lon Chaney, Jr. of "The Wolfman" fame). It is then that the movie loses its footing again, and once again makes for frustrating, awkward viewing. I cannot completely assail the film, as it is based on a true story, and I can't completely condemn the script if it does indeed follow life events accurately, but I doubt the more dramatic scenes in Chaney's life were this exaggerated. It also suffers from playing too heavily with the "false epiphany" concept that is way too common in biopics. Let me give an example: BOY: Pops great with faces, he's got a thousand of 'em! AGENT: Imagine that, a MAN OF A THOUSAND FACES. We could run with that! (the film "Walk Hard" has a great running joke about this common flaw in biopics) Skipping this film, you wouldn't be missing too much. If you do catch it, it's nice to learn some more about Lon Chaney's life and see a great performance by Cagney, but you'll still be stuck watching a film that's mediocre at best. If you want to see a fantastic Cagney biopic, stick with Yankee Doodle Dandy.
Michael Clayton
Absolutely dramatic storytelling. Admittedly I have a vested interest in both James Cagney and Lon Chaney. Yeah, Cagney doesn't really look like Chaney at all but he was the man of a thousand faces. Why not one more? As you'd expect James Cagney is amazing in the role. He inhabits all the things Chaney was. The parts of his life the screenplay chooses to show are well timed and done with prestige. Starting with his childhood brought up by deaf parents and his career as a song-and-dance man, all the way up through his turn as Quasimodo. This was, after all, rushed into production as a tribute to the man. I think he'd be proud.
Aaron Carlson
½
A compelling look at early Hollywood with an outstanding performance from Cagney.
Anthony Valletta
Super Reviewer
Discussion Forum
Discuss Man of a Thousand Faces on our Movie forum!