Amarelo Manga (Mango Yellow)
(2003)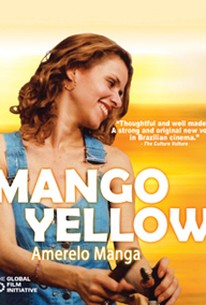 Amarelo Manga (Mango Yellow) Photos
Movie Info
The destinies of the downtrodden citizens of a Brazilian shantytown converge in director Claudio Assis' stark tale of life on the fringe of society. Though Recife is a major Brazilian city with over 1.5 million inhabitants, the lives of the well-to-do exist as little more than an unreachable horizon to those who face the bleak day-to-day reality of existence on the street. Though butcher Wellington (Chico Diaz) admires his wife Kika's (Dira Paes) devotion to her religion, his motivation for supporting her spirituality lies more in the fact that he knows she will remain faithful (which he has not) than in any true concern for her soul. Delivering meat to a Texas hotel which serves as refuge to a collection of lost souls not unlike the butcher himself, the characters come together as Wellington offers his neighbors a series of portraits. As life stretches into a never-ending cycle of wasted days and lonely nights, the citizens of Recife do their best to search for meaning in the face of crushing poverty.
Critic Reviews for Amarelo Manga (Mango Yellow)
Audience Reviews for Amarelo Manga (Mango Yellow)
½
It is the yellow of the diseases, the purulent wounds, the rotten teeth - a nearly grotesque (and for most maybe even too hard to stomach or digest) view of Recife, Brazil and the people there living as seen through the daring and cynical lens of enfant terrible Claudio Assis.
Carlos Magalhães
Super Reviewer
An interesting slice of life film depicting life in a slum in Brasil. The story covers the events of a single day. Life and death, and the desires common to all men play a part in this tight little film. One comes away with a sense that in the face of such abject poverty, the characters in this film seek love, companionship, and comfort, just as we all do. After the basic needs of life, (food, shelter, and safety) are met, then these other needs can be addressed, even when the availability of the means to achieve them are severely limited. Despair and a joie de vivre walk side by side in the barrio.
Mark Abell
Super Reviewer
Amarelo Manga (Mango Yellow) Quotes
There are no approved quotes yet for this movie.