Messengers 2: The Scarecrow
(2009)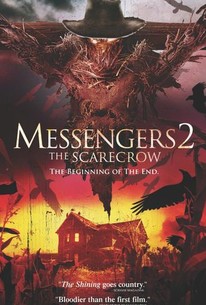 AUDIENCE SCORE
Critic Consensus: No consensus yet.
Messengers 2: The Scarecrow Photos
Movie Info
In this prequel to the Pang Brothers' terrifying English-language debut, the eerie backstory of farmer John Rollins plays out in all its bone-chilling glory. Doing what he believes must be done in order to save his family and livelihood, John places an odd scarecrow among his crops and promptly reaps the benefits. The thing is, his luck probably won't last for long. Produced by the celebrated Ghosthouse Pictures (30 Days of Night, Drag Me To Hell) and penned by Todd Farmer (the screenwriter behind the 2009 remake of My Bloody Valentine), this is one hayride best not taken alone.
Critic Reviews for Messengers 2: The Scarecrow
Audience Reviews for Messengers 2: The Scarecrow
The Messengers may not have been the best horror film, but it definitely wasn't the worst. I frankly enjoyed the first film, and thought it was a fine ghost story. But this direct to DVD Prequel is awful.The film is poorly conceived with a bad plot and bad acting. Like with every other straight to DVD title, The Messengers 2 looks cheaply made. I felt that the film lacked anything that would make a good horror film. The absence of chilling horror makes this an awful film. The Messengers was a good film, but this prequel is simply poorly made. The film has no real connection to The Messengers aside from the films score. I felt bored watching this and it took me everything to finish watching it. I was really hoping to like it, unfortunately, this straight to DVD title continues the tradition of bad straight to DVD titles If you're looking to watch the film, be warned.that it has nothing to do with The Messengers. This prequel doesn't explain anything, and decides to go somewhere that has nothing to do with The Messengers. In other words this prequel doesn't make sense, and is only related to The Messengers in name alone. The film is poorly directed, with sloppy writing and acting. If you're looking for a good horror flick, you won't find it here. Messengers 2: The Scarecrow is an awful attempt at cashing on the success of the original. Though The Messengers wasn't a great horror flick, it was still good fgor what it was. But this prequel is simply awful. Avoid it.
Not as good as the first...but still a pretty good film with very interesting and frightening scenes.
Jacob Palacio
Super Reviewer
This was worst. I can't really say that the first one was better. The first one was A LOT better than this one.
Dead Angel
Super Reviewer
Messengers 2: The Scarecrow Quotes
There are no approved quotes yet for this movie.