The Mighty Ducks
(1992)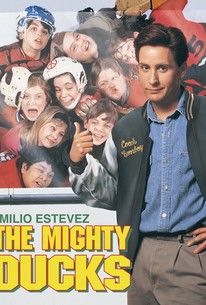 Movie Info
After a Minneapolis lawyer (Emilio Estevez) is sentenced to community service for a drunk-driving conviction, he begins coaching a pee-wee league hockey team made up of misfits and delinquents. Haunted by past shortcomings while on the ice, he tries to coach teamwork on the way to the cup. A big box-office success, The Mighty Ducks eventually spawned a series of sequels during the rest of the '90s.
People Who Like this movie also like
News & Interviews for The Mighty Ducks
Critic Reviews for The Mighty Ducks
Audience Reviews for The Mighty Ducks
The Mighty Ducks may not be the best family film, but for what it is, it's still a film that's enjoyable to watch with your family. For a Disney sports film, this is actually pretty good entertainment. The film is pretty funny and has a pretty decent cast of actors. Of all The Mighty Ducks films, this is the best film. Though this isn't the best sports film, The Mighty Ducks is still a worthwhile sports comedy that is much under appreciated. This is a very entertaining sports comedy, and though it's not as memorable as many other sports comedies, The Mighty Ducks is nonetheless a good film with good laughs. The film could have improved, sure but as a whole this still a very good, underrated film that though not perfect doesn't deserve the flack it has received. The cast is pretty enjoyable and director Stephen Herek directs an effective family film that is far better than most other Disney films that are just plain dumb such as Heavyweights. Emilio Estevez, although not in his best performance (for his best look at The Breakfast Club and Young Guns 1, 2) is good here. I thought this was better than the usual Disney output of mindless, dumb family oriented films, and this is a good film that is quite enjoyable despite its flaws. I enjoyed this, thought it was very amusing and fun to watch. For what it is, The Mighty Ducks is a much underrated family film does deliver a good, entertaining time for the family. Give it a chance and it may surprise you at how good this film really is.
Saw it again!!! The movie sure is great and inspirational. One of my favorite movies growing up, I was 10 when it came out on the bigscreen. Love it!!! Gordon Bombay, a hotshot lawyer, is haunted by memories of his childhood, when, as the star player in his champion hockey team, he lost the winning goal in a shootout, thereby losing the game, and the approval of his coach. After being charged for drunk driving, the court orders him to coach a peewee hockey team, the worst in the league, Gordon is at first very reluctant. However, he eventually gains the respect of the kids and teaches them how to win, gaining a sponsor on the way and giving the team the name of The Ducks. In the finals, they face Gordon's old team, coached by Gordon's old coach, giving Gordon a chance to face old ghosts.
The Mighty Ducks Quotes
| | |
| --- | --- |
| Gordon Bombay: | Why don't you play for us? |
| Fulton Reed: | I can't. |
| Gordon Bombay: | What do you mean you can't? |
| Fulton Reed: | I mean I Can't!!! |
| Fulton Reed: | I mean, I Can't! |
| Gordon Bombay: | What are you afraid? |
Discussion Forum
Discuss The Mighty Ducks on our Movie forum!