Mimic 2
(2001)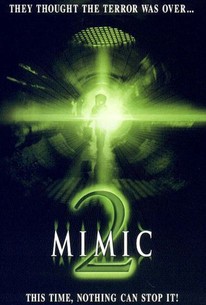 Movie Info
After three men are discovered hideously mutilated -- their faces have been removed -- and strung up among New York City's high-tension wires, Detective Klaski (Bruno Campos) stumbles upon a link: Each of the men knew entomologist Remy (Alix Koromzay), a teacher at an inner-city high school. Klaski considers Remy a prime, albeit unlikely suspect, in the killings until he witnesses for himself the shape-shifting creature that has been stalking Remy -- an intelligent six-foot-tall insect with the face of its previous victim. And it wants to mate with Remy. It's off to the races as Remy, Klaski, and a pair of her students are trapped inside the school as the creature hunts them down. Meanwhile, a military unit of bug busters gets ready to fumigate the school with poison gas.
News & Interviews for Mimic 2
Critic Reviews for Mimic 2
Audience Reviews for Mimic 2
½
Sequel to Mimic is a decent affair that just hints at the effective shocks and thrills of the original without trying to do anything new. The cast here are forgettable and there are no standout performances. I didn't think the sequel was bad, just it needed some work to make it a much better movie. That is to be expected from a follow-up, especially one directed by Guillermo del Toro. The original wasn't anything great and is not a classic by any means, but it was definitely entertaining in terms of monster carnage and effects work. Here we have the carnage and effects, but it's predictable and we know what's going to happen. This movie is decent, but forgettable. The original is the one to watch and if you decide to see this movie, don't expect anything great. Mimic 2 could have used a lot more in terms of a better script and storytelling, and you can clearly see this sequel's flaws. I simply felt like a sequel wasn't necessary. Del Toro's movie was a terrific monster film, even if it's not a classic. This was purely made to cash in on the success of the original, and you can clearly see it on-screen. I didn't hate the film; I simply felt it needed more substance. Mimic 2 feels rushed with no care of trying to create something that can match the original. I think it's a great shame because they really could have made something quite good and memorable. Mimic 2 is worth seeing if you have nothing else better to watch and if you're a die-hard fan of the original. Go into this one expecting something decent, but be prepared to see that the film needed more depth to really make this one a unique monster movie like the original.
½
Completely unnecessary sequel with a weak and lazy plot. Only one of the original characters return in this one played by Alix Koromzay, who had a bit part in the first film, this time round she plays the lead. And of course we have the return of the "Mimic" bugs which were a creepy and cool creation. Overall there wasn't as much big action due to lack of budget which clear to see by the poor CGI work. But it has some fun moments, a bit of gore now and then and it does a decent job recreating the dark urban grimey atmosphere the first film achieved so well. Mediocre and forgettable sums this one up though, but for lovers of the original it may be worth a look, just don't set your expectations high.
I can't actually remember this as I watched it years ago when my dad got it out. I remember it was pretty lame and I'm pretty sure this was in a school or something, and if not then I think I have the wrong movie. I remember a scene where they put chairs/tables up to keep the thing away from them. Um... the only other thing I remember is that due to the fact it was a sequel I wanted to watch the first one. Which I now have done.
Lauren Donis
Super Reviewer
Mimic 2 Quotes
There are no approved quotes yet for this movie.