Miracles from Heaven
(2016)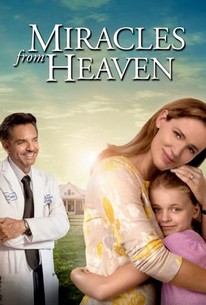 TOMATOMETER
AUDIENCE SCORE
Critic Consensus: Miracles from Heaven makes the most out of an outstanding performance from Jennifer Garner, but it isn't quite enough to keep this faith-based drama from preaching to the choir.
Miracles from Heaven Videos
Miracles from Heaven Photos
Movie Info
When Christy discovers her 10-year-old daughter Anna has a rare, incurable disease, she becomes a ferocious advocate for her daughter's healing as she searches for a solution. After Anna has a freak accident, an extraordinary miracle unfolds in the wake of her dramatic rescue that leaves medical specialists mystified, her family restored and their community inspired. Based on a true story.
News & Interviews for Miracles from Heaven
Critic Reviews for Miracles from Heaven
Audience Reviews for Miracles from Heaven
"Miracles are everywhere." Jennifer Garner stars in the faith based film Miracles from Heaven. Based on a true story, when her daughter develops a life threatening digestive disorder Christy Beam struggles with her faith and goes to extremes to get her daughter medical care. Garner gives a very strong performance, as does child actress Kylie Rogers, and they have great chemistry as mother and daughter. Also, the script is especially well-written and never feels preacher or hockey (like a lot of faith based films do). And while there's a bit of melodrama, it's fairly restrained. A touching and powerful film, Miracles from Heaven is a compelling story about love and community.
Dann Michalski
Super Reviewer
Great film...kinda cheesy at times, but ultimately a fascinating story and worth checking out.
Stephen Skudlarek
Super Reviewer
Heaven help audiences who don't enjoy being hit over the head like a Whack-A-Mole with a movie's moral because - for all of the good graces of its cast and intentions - the better-than-most but nonetheless hopelessly syrupy Bible-thumper known as Miracles from Heaven accomplices just this. If you believe in Miracles, stick with a certain sports drama about ice hockey at the 1980 Winter Olympics called, well, Miracle. This tidy bar of soap, however, forcefeeds the issue at hand, which gets empathy from a loyal flock but ingratiates the flocking rest. Sure, this movie has a target audience: stringent Christians. They came to the cinema as believers and would inarguably leave the cinema believers even if they were inexorably locked in and shown a Faces of Death marathon instead. What about other moviegoers? There are many faith-ful moviegoers, the writer of this review included. Why do faith-based movies have to be so on-the-nose when life just isn't so cut-n-dry? But the family at the center always does nicey nice activities together, says nicey nice things all of the time, and makes nicey nice friends like Queen Latifah very easily. In this PG-rated drama based on the book by Christy Beam, a young girl suffering from a rare digestive disorder finds herself miraculously cured after surviving a terrible accident. Even when life lobs hardball issues like crippling financial woes at them, these plot points get handled in a softball manner--not in a "don't sweat the small stuff and it's all small stuff" kind of way either but by addressing them and then not dealing with them at all. Life presents us with difficult challenges, as does our belief systems. Illustrated Bible Stories work for many when they are young and eat Play-Doh but offering them the live action equivalent as adults seems kind of demeaning. When one character says, "I've been a doctor for 25 years (and have) never seen anything like it," he's very wrong. EVERY faith based movie seems to pan out similarly to this. Admittedly, this one rings a tad truer thanks to the players. Jennifer Garner throws her all into the goings-on but, as well meaning as they are, an Illustrated Bible Story is an Illustrated Bible Story. Bottom line: Beginning to See the Blight
Miracles from Heaven Quotes
| | |
| --- | --- |
| Pastor Scott: | There's a common phrase: No pain no gain. And it is, of course, attributed to the sculpting of our bodies, but the same principle can be applied to the sculpting of our character and the deepening of our spiritual life. |
| | |
| --- | --- |
| Anna Beam: | That's alright, mom Not everyone is gonna believe. And that's OK. They'll get there when they get there. |
| | |
| --- | --- |
| Christy Beam: | We're not giving up. |
| | |
| --- | --- |
| Christy Beam: | I'm not leaving this hospital until I know what's wrong with my little girl! |