Mon Oncle
(1958)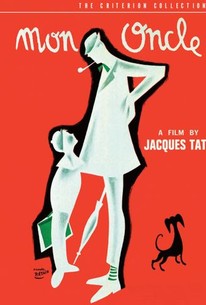 Movie Info
In Jacques Tati's first color film, he again plays Monsieur Hulot, a man of simple means living an uncomplicated life. The home of Hulot's sister and brother-in-law is ultra-modern but holds no appeal for Hulot's nephew. So, the boy enlists his uncle's help in waging war on the modern world.
Critic Reviews for Mon Oncle
Audience Reviews for Mon Oncle
½
Knocking on the door of Stanley Kubrick, Jacques Tati constructs his work so methodically that it's stunning at first, the layers and layers of depth, but unlike Kubrick all for the smile of recognition. Dogs roam about, boys are mischievous, women gossip, all against a backdrop of encroaching technology threatening to make our lives easier, better. Tati, more than many, saw how the race would use the better tech only in the most egotistical of ways, long before the selfie, or the Kardashians for that matter, existed. The ending sequence alone is a tour de force (is that a French expression?), and Tati is the still a beautiful recommendation for all things Gallic.
Kevin M. Williams
Super Reviewer
½
A man moves to a new town and struggles with his upper class relatives' reliance on technology. The subject of this film's satire is obvious from the beginning. Clearly, Jacques Tati is saying that technology is over-determining our lives and our relationships. However, the action of the story is mostly ridiculous. Bumbling and foolish, Tati's character stumbles through exaggerated sets, and the film feels like a long slapstick routine with a point. I don't find the film funny, but I could appreciate its point. Overall, slapstick with a point is better than slapstick without a point, but it's still not enough for me.
Jim Hunter
Super Reviewer
½
Mon Oncle is not just a funny satire of the bourgeoisie, technology, falseness and the politically correct, but is also a sweet portrait of childhood and one of the most delightfully films that I ever saw. Fresh.
Lucas Martins
Super Reviewer
Mon Oncle Quotes
There are no approved quotes yet for this movie.