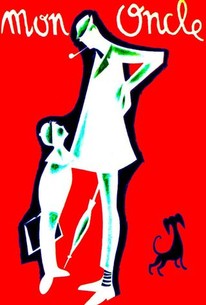 Mon Oncle
1958, Comedy, 1h 58m
32 Reviews
5,000+ Ratings
What to know
Critics Consensus
Jacques Tati's most accessible film is a paean to gentle values and observing the small details of life. Read critic reviews
Where to watch
Rent/buy
Subscription
Rent/buy
Rate And Review
Movie Info
Genial, bumbling Monsieur Hulot (Jacques Tati) loves his top-floor apartment in a grimy corner of the city, and cannot fathom why his sister's family has moved to the suburbs. Their house is an ultra-modern nightmare, which Hulot only visits for the sake of stealing away his rambunctious young nephew (Alain Becourt). Hulot's sister (Adrienne Servantie), however, wants to win him over to her new way of life, and conspires to set him up with a wife and job.
Audience Reviews for Mon Oncle
Mon Oncle is amusing, full of French charm, vivaciousness, and absurdity. Some shots and sequences are very well set up, it is like watching a painting come to life. Unfortunately, many of the scenes drag on and the overall length is more than it needs to be. Poor sound and video quality detract from the film as well. While Mon Oncle is a mixed bag, I enjoyed it and would recommend to lovers of satire and French films.

A man moves to a new town and struggles with his upper class relatives' reliance on technology. The subject of this film's satire is obvious from the beginning. Clearly, Jacques Tati is saying that technology is over-determining our lives and our relationships. However, the action of the story is mostly ridiculous. Bumbling and foolish, Tati's character stumbles through exaggerated sets, and the film feels like a long slapstick routine with a point. I don't find the film funny, but I could appreciate its point. Overall, slapstick with a point is better than slapstick without a point, but it's still not enough for me.

Mon Oncle is not just a funny satire of the bourgeoisie, technology, falseness and the politically correct, but is also a sweet portrait of childhood and one of the most delightfully films that I ever saw. Fresh.

Assim como a imagem de Charles Chaplin ficou eternizada no consenso popular através de seu personagem Vagabundo, caracterizado pelo seu bigode, bengala e chapéu, a primeira relação que pode ser feita ao nome de Jacques Tati é de uma figura alta, de cachimbo e chapéu, vestindo um longo casaco e com um peculiar modo de caminhar. Não se trata de uma descrição do ator e diretor francês, mas sim de seu personagem, o Sr. Hulot, que fez sua primeira aparição no filme As Férias do Sr. Hulot. Meu Tio, o filme subseqüente do diretor, apresenta o retorno do cômico personagem, desta vez entrando em conflito com a cultura consumista importada dos EUA que invadiu a França no período pós-guerra. Seguindo a linhagem de Chaplin, que produzia obras com um viés político e social, através de Meu Tio Tati exerce uma crítica à modernização, à perda de valores interpessoais e à criação de uma sociedade hedonista que busca o prazer através do consumo. Se com Tempos Modernos Chaplin mostrou como a industrialização estava levando o homem à alienação social, Meu Tio mostra os resultados desta época. Caracterizando os frutos desta sociedade pós-moderna, o filme nos apresenta a família Arpel, composta pelo Sr. e a Sra. Arpel (Jean-Pierre Zola e Adrienne Servatie) e seu jovem filho Gerard (Alain Becourt). Localizados em um bairro de classe alta do subúrbio de Paris, os Arpel vivem em uma residência cuja construção poderia ter sido extraída diretamente de um guia de Art Déco: uma enorme mansão composta por vastos cômodos, uma garagem de porta mecanizada, uma vasta fachada com um jardim cercado por altos muros e, o símbolo máximo da ostentação, uma fonte em forma de peixe que a Sra. Arpel se orgulha em exibir aos visitantes. Todas as manhãs, o Sr. Arpel dirige o pequeno Gerard para a escola a caminho do trabalho, enquanto a matriarca mecanicamente cuida dos serviços domésticos todas as manhãs. É curioso perceber como, logo na abertura do filme, Tati nos apresenta a um mundo onde tudo é imaculadamente perfeito na superfície: a família amorosa que poderia ter saído de um filme norte-americano cercada por uma casa onde tudo brilha e onde a sra. Arpel metodicamente se preocupa com os mínimos detalhes em relação a limpeza da residência e do carro do marido. Mais tarde ficamos sabendo, no entanto, que Gerard é considerado uma "criança problema" por seus pais, pois não se preocupa com os padrões ditados pela família e dá maior atenção às brincadeiras do que aos estudos. Em um bairro mais humilde da cidade, mas onde o charme e a simplicidade da velha França ainda não cederam à modernização, encontra-se o Sr. Hulot (Tati), irmão da Sra. Arpel. Contrastando com a moradia perfeita e estéril da irmã, ele vive em uma vila onde os moradores moram próximos uns aos outros e inevitavelmente se cumprimentam todas as manhãs; onde o gari varre as ruas e conversa incessantemente com o ocasional pedestre e onde as pessoas se unem ao redor das barracas de frutas e legumes para não perderem a última oferta da feira. Em um dos melhores planos do filme, vemos o grande sobrado onde o sr. Hulot mora e o caminho que ele percorre até chegar ao seu apartamento no último andar: ele caminha através de apartamentos alheios, sobe lances de escada e ainda no caminho encontra diversos vizinhos. Uma de suas principais distrações é o simples ato de ajustar a vidraça da janela para que o reflexo do sol faça o passarinho da gaiola do vizinho cantar. Naquele dia, o Sr. Hulot ficou encarregado de tomar conta do sobrinho. Após buscá-lo na escola, ele leva Gerard para um passeio nos arredores de seu bairro. Logo fazendo amizade com as crianças locais, o menino descobre o prazer de atividades simples como comer doce do vendedor da rua e fazer brincadeiras como distrair os pedestres na rua para que estes caminhem de encontro a um poste. Gerard vê então em seu tio uma válvula de escape do estilo de vida de seus pais, tendo a oportunidade de ser uma criança como as demais. Utilizando o menino como ponte, Tati retrata na tela o exacerbado contraste entre o mundo do Sr. Hulot e do Sr. e Sra. Arpel. Assim como o tio, Gerard se sente uma figura estranha em sua própria casa. O cotidiano de seus pais representa a idéia do simulacro, onde a simulação de uma realidade mais fácil e mais moderna é mais atraente do que a verdadeira realidade. "Os homens criam as ferramentas: estas, por sua vez, recriam os homens" afirmou o filósofo Marshall McLuhan em um de seus diversos estudos sobre a comunicação. Tal pensamento se estende ao comportamento dos personagens da alta classe de Meu Tio, pois as regras de sua conduta são ditadas pelas ferramentas ao seu redor. A casa dos Arpel, por exemplo, é equipada com a mais variada sorte de objetos e ornamentos eletrônicos que supostamente deveriam simplificar a vida de seus moradores, mas que apenas os mantém mais afastados. A casa em si atua como outro personagem do filme: um ser grande e imponente, cujas janelas nos andares superiores assemelham-se a dois grandes olhos que observam os habitantes. Não apenas isso, a casa ganha parece ganhar vida própria, chegando ao ponto de aprisionar seus donos na garagem em uma das cenas mais cômicas do filme. Com a finalidade de demonstrar mais agudamente como as relações são prejudicas pela intervenção da tecnologia, Jacques Tati resolve investir em cenas relativamente longas demonstrando o cotidiano dos moradores do bairro do Sr. Hulot. De forma natural, as pessoas conversam, fofocam, brigam, xingam, mas, acima de tudo, confraternizam e se divertem juntas. Cercados por altos muros, as relações do casal Arpel com o mundo esterno se resumem aos amigos de trabalho do marido e à vizinha de classe alta que acabara de se mudar. As relações burguesas são formadas por jogos de aparências, conversas superficiais, sorrisos falsos e laços emocionais arranjados. Assim como o Vagabundo de Chaplin se sente desconfortável em meio à tecnologia, o Sr. Hulot se sente recuado entre este meio que não lhe é familiar. Conseqüentemente, a tentativa da Sra. Arpel de unir o irmão com a vizinha e de lhe dar um cargo na empresa do marido falham terrivelmente. Ao invés de criar peças específicas, Tati aproveita tais situações para injetar a fita com seu característico humor. Abolindo quase totalmente o uso de closes no filme, o diretor mostra a preferência por planos abertos, o que dá valor à figura peculiar de seu personagem e nos mantém distantes da fatia mais fria e impessoal do mundo de Meu Tio. Assim como Chaplin, Keaton e Laurel e Hardy, Tati faz uso de um humor visual, favorecendo a ação sobre os diálogos. Estes, por sua vez, não possuem um grande papel no filme, dando espaço ao criativo uso do design de som: os efeitos sonoros das cenas ambientadas em meio à classe alta são mecânicos e artificiais, contrastando com os sons naturais e orgânicos do subúrbio. Ao início de Meu Tio, os créditos da produção são dispostos em placas de construção, com imagens das obras de um prédio sendo usada como pano de fundo. A seguir, o título do filme aparece escrito em uma parede do bairro do Sr. Hulot. O que Jacques Tati quis dizer com esta justaposição de imagens, supõe-se, é que lugares como este pequeno subúrbio e os estilos de vida que os acompanham estão sendo cada vez mais cercados e substituídos por grandes edifícios e corporações. O que era ainda um período de transição em 1958 atualmente é uma realidade cultural, o que apenas contribui para tornar Meu Tio ainda mais ressonante nos dias de hoje do que quando foi lançado.
See Details