Ms. 45
(2013)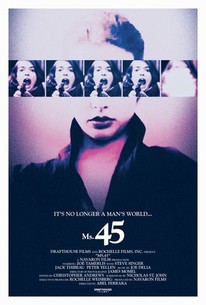 Movie Info
Abel Ferrara's (Bad Lieutenant, King Of New York) 1981 revenge thriller classic Ms. 45 follows a mute garment-district seamstress - played by the late model/actress/musician/screenwriter Zoë Lund - who after falling victim to multiple unspeakable assaults, ignites her one-woman homicidal rampage against New York City's entire male population. Now remastered in HD from the original negative materials, Ms. 45 returns to theaters this December and debuts on DVD and Blu-ray uncut for the first time in North America.
People Who Like this movie also like
Critic Reviews for Ms. 45
Audience Reviews for Ms. 45
Abel Ferrara's Ms. 45 is a dark, intense revenge movie that doesn't reinvent anything in the genre, but is nonetheless a worthwhile addition to the genre, and for the most part is a truly engaging picture. The cast are good in their parts, and the film is dark, atmospheric and engaging due to Ferara's tense direction, which adds to so much to the film. For a revenge picture, Ms. 45 is a well crafted affair, and even if it doesn't reinvent the wheel, it should definitely appeal to fans of action pictures that enjoy a revenge film. The genre is truly awesome, and it has more than its fair share of memorable films, Death Wish being the most prominent one. However, Ms. 45 is a worthy film, and highly engaging despite its flaws, and Ferara crafts a film that is dark, always tense, even if you know how things will play out. That's one thing about Abel Ferara's films that stand out; he always manages to make an impact due to his visual style that is right out of a nightmare. This may not be a masterpiece, but it nonetheless belongs among the best revenge pictures that have been made. This is an entertaining picture with some good performances and a good plot. If you enjoy these films, then you're sure to find Ms. 45 a truly entertaining ride from start to finish. The film at times is pure sleaze, but again, it's what gives it, its identity. In terms of revenge films, Ms. 45 is a fine picture that showcases the talents of director Abel Ferara. Ferara is a good director, and he has made some good films, and after the decent Driller Killer, he would tackle different subjects, and here he delivers a well thought out revenge film that is worth seeing due to a good plot, and its dark, intense atmosphere.
½
i wanted to like it more than i did. it goes beyond revenge tho. girl is a serial killer
Stella Dallas
Super Reviewer
½
My favourite female revenge film, it's very atmospheric, spooky, and hypnotizing, and I loved it.
Ms. 45 Quotes
There are no approved quotes yet for this movie.