Na Shan Na Ren Na Gou
(2003)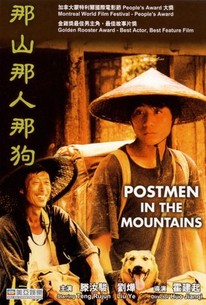 Na Shan Na Ren Na Gou Photos
Movie Info
Huo Jianqi, former art director for noted Chinese filmmaker Tian Zhuangzhuang, debuted with this delicately wrought, beautifully photographed drama about delivering the mail to remote mountain villages in southeastern China's Hunan province. A father (Teng Rujun) prepares to hand his 112-mile mail route over to his son. At dawn, the two embark on the three-day round trip on foot. Traveling along the rugged landscape of wind-blown hills, craggy rocks, and winding rivers, the son learns not only about the isolated communities to which they deliver mail but also about his own father. Postmen in the Mountains was screened at the 1999 Montreal Film Festival.
Rating:
NR
Genre:
,
Directed By:
In Theaters:
On DVD:
Runtime:
Studio:
Beijing Film Studio
Critic Reviews for Na Shan Na Ren Na Gou
Audience Reviews for Na Shan Na Ren Na Gou
Simple meditative film about a father handing over the reigns of his postman job to his son during one last journey through the Hunan mountains. A lovely film, enough to make you envy them their day job and the scenery and cinematography are stunning. HIghly recommended for people who like walking.
½
The movie held my attention for its brief running time, but its overly sentimental script and telegraphed 'message' was a little too much for my cynical ass to stomach. If you enjoy weepy sentimentality, go for it, this is for you. Me, I found the whole thing tiresome.
Maxwell Demon
[b]Night of the Living Dead[/b] - George A. Romero's beginning to his zombie film comes off as a much weaker film than [i]Dawn of the Dead [/i]which was filled with some great social commentary, wit, and straight-up fun. In this film, which has inspired a number of other movies' plots (the idea of being trapped in a building with no way out), the zombies are outside, the people are inside, death is somewhere inbetween. The films' main issue is that events take too long to occur, and I'm saying this because when I looked at the time an hour into it, what had happened felt like it should have happened in thirty minutes, for this leaves little time left for things to happen. However, other than this, the film is chilling at moments and overall, just good filmmaking. [b]Postmen in the Mountains[/b] - This little film from China gives us some great insight into the similarities of generations. Through it's beautiful cinematography, we're told the story of the Son as he goes on his first post route (done the old fashion way, by foot). The Father feels obligated to show him the ropes, and in their time together, the Son discovers a new love, a father he never had, and a purpose in life. The aesthetics alone are enough to recommend this wonderful little film. [b] Collateral[/b] - Michael Mann gives us a great action flick that's real action lies in the cab, not in the clubs and dark alleyways. We're given Vincent, a character that will be remembered in the history of movie baadasses, and he's not your normal serial killer---he thinks and justifies what he's doing through nihilism. He makes some truly good points about our society, and Foxx's Max is that society---going through the daily routines and delusions until something big hits them. The use of digital cameras gives it a more realistic feel, and its a nice break from the norm. The soundtrack is one of the best of the year; however, the staind song brings it down a notch. This film will surely give you a heart-pounding time while also interrogating your deepest societial beliefs. [b]Darkman[/b] - This is a light piece of entertainment from master entertainer Sam Raimi. Its main flaws are its miscasts Liam Neeson and Frances McDormand as its title characters. The real reason we're hear is to see the expirimental special effects of the late 80's and early 90's, like when 'Darkman' starts raging and we see the world surrounding him break apart in flames. It has the visually interesting style from Raimi mixed with some bad writing and some marginal acting, but because the real star here is Raimi, it turns out good (yet forgettable), in the end.
Ben Webb
Na Shan Na Ren Na Gou Quotes
There are no approved quotes yet for this movie.