Nabbeun namja (Bad Guy)
(2001)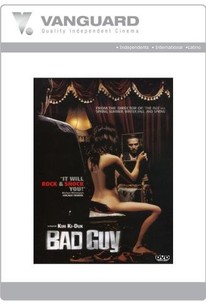 Nabbeun namja (Bad Guy) Photos
Movie Info
While strutting through Downtown Seoul, Hang-gi, a local gangland pimp, spots young Sun-hwa, a pretty, middle-class college student, waiting on a park bench. He sits next to her, creating a disparate scene of two classes in soft harmony, until she sneers at his advances and rushes into the arms of her preppy boyfriend. Offended, he grabs her and forcefully kisses her. Sun-hwa demands an apology, and when Ha-Gi refuses, he is beaten by a group of soldiers who had witnessed the assault. As a final insult, Sun-hwa spits in his face while he is restrained. Soon after, Sun-hwa makes the mistake of taking a seemingly forgotten wallet filled with cash. She is apprehended by the owner, and forced to pay a huge sum or be turned into the police. With no money, she signs a contract that results in her being sold into prostitution to repay the debt. Whisked away to the neon colors of a Seoul brothel, her introduction to street life is harsh and cold, her teacher an iron-hearted woman with only disdain for the untrained Sun-hwa. As she is brought into her drab room for her first encounter, we learn who is really behind her imprisonment. Watching from behind a double mirror in her room, sits Hang-gi, the 'Bad Guy.' As Sun-hwa descends further and further into street life, she takes on the full-fledged traits of a john-luring prostitute. Hang-gi's curtain parts to reveal Sun-hwa's harsh education through the mirror, and his tears expose his growing feelings for her. Hang-gi's language is reduced to facial gestures, his throat marked with the long lash of a scar straight across from ear to ear. After a failed escape attempt, Sun-hwa is taken to the seashore by Han-gi. Here she is confronted with a series of mysterious torn photographs that seem to suggest a hidden past or even a possible pre-determined future between Han-gi and herself.
Critic Reviews for Nabbeun namja (Bad Guy)
Audience Reviews for Nabbeun namja (Bad Guy)
½
Probably one of the most twisted love stories ever made into a film. It's set in South Korea and is about a gangster who finds instant attraction towards a young college student and becomes so infactuated he conjures a plan that has her forced into prostitution under his watchful eye in order to pay off her loan. It's an interesting film for sure but it's quite disturbing and unpleasant as the poor female victim struggles with her desperate situation who grows to both loathe and love the man responsible for her predicament. The 'Bad Guy' also struggles with his love and guilt towards the woman whilst trying to maintain order in and around the brothel he monitors leading to some violent confrontations with clients and other gangsters. Very well acted by all. It did have some slow moments though. It won't be for everyone - especially feminists - but it's worth one viewing for those not easily offended.
There's some exceptional visual trickery present in Bad Guy - Kim Ki-Duk's play at duality and reflection with constant graphic references to glass and mirrors, though obvious, yields some great-looking results - but unfortunately the metaphor just doesn't sustain Bad Guy. It's an interesting byproduct of a film that preoccupies itself more with repetitive scenes of violence or threatened violence, which starts out menacing but falls victim to diminishing returns until you've basically tuned all the sound and fury out. Worse yet are the utterly bland main characters, a hopeless and unsympathetic brat-cum-prostitute and the progenitor of Kim's archetypal but unpolished silent man of action. Like the film, these characters and their respective performances are competent, but completely lacking in dramatic inflection. You spend nearly the entire movie waiting for it to break the cycle of total sameness, but by the time it finally does you're beyond caring. Totally skippable. It doesn't even have the distinction of being significant chronologically for Kim - The Isle came first and is, by all accounts, better. It's good that he went on to make much more provocative, fleshed-out films than this. I guess it served as a stepping stone for him.
Drew Smith
Super Reviewer
½
Not just a sick movie, Imo it manages to make a few fair points, Thoought provoking with some impressive moments
Nabbeun namja (Bad Guy) Quotes
There are no approved quotes yet for this movie.