Nativity!
(2009)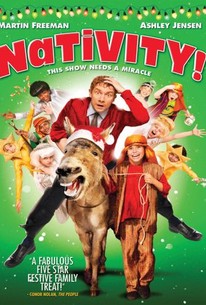 Movie Info
This is about two rival English schools vying to outdo each other in the annual Christmas nativity play.
Critic Reviews for Nativity!
Audience Reviews for Nativity!
A good and funny British film. A must see for lovers of British comedy but overall it wasn't anything special in terms of story and it did have a lot of continuity issues.
Sophie Burgess
Super Reviewer
Primary school teacher Paul Maddens (Martin Freeman) is given the unenviable task of directing St Bernadette's school nativity play. To gain a review for the best nativity play in town, he has to beat the local posh school and it's drama teacher, Gordon Shakespeare (Jason Watkins). Unfortunately, Paul decides to make an ill judged boast that Hollywood producers are coming to watch his version of the Nativity - a lie which leads to an increasing avalanche of lies due to his over-excitable classroom assistant, Mr Poppy (Marc Wootton). Whilst Jim Carrey's "A Christmas Carol" was the main Xmas film of 2009, this British comedy was an overlooked gem at the cinema. Martin Freeman plays Maddens in a comically deadpan manner as he plays straight man to Marc Wootton's wonderfully comic creation of Mr Poppy who is basically an over-grown man-child who hasn't grown out of his first childhood and doesn't think of the consequences of his actions. In a film where there's a competition, of sorts, the heroes are only as good as their protagonists and this comes in two areas - Jason Watkins providing a suitably hammy performance in the role of Gordon Shakespeare - a frustrated actor who thinks he's a member of the Royal Shakespeare Company to the point of creating an "edgy" Nativity in the form of "Herod - A Christmas Tale". The other protagonist is Alan Carr in his role of the local theatre critic who rates children's Nativities like the West End or Broadway and eats sandwiches whilst watching the performance. Alongside the main plot is a romantic subplot between Maddens and his former girlfriend who works in Hollywood, Jennifer (Ashley Jensen). The casting surrounding these actors is excellent with actors such as Pam Ferris as the school's head-teacher and Ricky Tomlinson as the town's blunt talking mayor. An element that adds to this film is the non-scripted part of the plot which is mainly performed by the children which helps them be natural alongside their adult co-stars as opposed to over-coached children that you sometimes see in films. Whilst it may not everyone's cup of tea, I can't understand why this film was given a "Rotten" rating by the critics Nativity! is a heart warming film with a message for the Xmas season and is worthy of next year's sequel, Nativity 2: The Second Coming, starring David Tennant, Joanna Page and Marc Wootton.
Theta Sigma
Super Reviewer
½
It is shockingly predictable, cheesy and cliched. But somehow this never begins to matter because it doesn't take itself seriously, just bounds along and is brilliantly "christmassy". But seriously, I can't remember ever leaving the cinema feeling as warm and elated. It is magnificently corny, verging on but not quite hitting cringy, but I can't recommend it enough
Louis Rogers
Super Reviewer
Nativity! Quotes
There are no approved quotes yet for this movie.