New York City Serenade
(2007)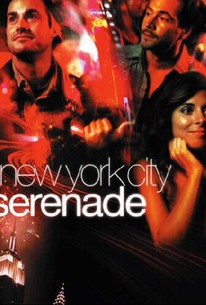 New York City Serenade Photos
Movie Info
Two lifelong pals living in New York City discover that sometimes the only way to remain friends is to grow apart in this semi-autobiographical drama from screenwriter/director Frank Whaley. Owen (Freddie Prinze, Jr. is an aspiring filmmaker who frequently spends the early hours of the evening with his girlfriend Lynn (Jamie-Lynn Siegler) before ducking out to watch best-friend Ray (Chris Klein)'s provide the beats for his popular bar band. By day Owen may work at the local photomat, but when night falls he strives to forget about his dead end job by drinking the town dry and raising hell with Owen and company. The late night hours, when Owen and Ray inevitably end up at raucous parties with uninhibited women and plenty of booze, are usually when things get really interesting though. One day, after Owen receives word that his latest film has been invited to screen in a popular festival, the lives of these two best friends begin to travel down divergent paths. Now Ray begins to see himself in competition with Lynn for Owens attentions, and the death of a friend's father prompts both friends to stand back and take stock of their lives. Later, after Owen and Ray meet actor Wallace Shawn at the airport, the unlikely trio strikes up an amiable friendship. Trouble soon arises, however, when Owen discovers that Ray has been posing as Shawn's son and the two part ways on unfriendly terms. But as with most lifelong friends it's only a matter of time before Owen and Ray find their way back into one another's company, and eighteen months apart can work wonders for healing old wounds.
Critic Reviews for New York City Serenade
Audience Reviews for New York City Serenade
Chris Klein is very good at playing an as$hole in this comedy-drama co-starring Freddie Prinze Jr. [good performance by him as well]. In some ways it's very cliche... they're best friends that are so different that they make you wonder why they're even friends with each other, and they're both in a rut working menial jobs. Chris Klein's character Ray is a slick-talking loser, band member, and alcoholic...who happens to be a father to a little girl [whose mother seems to hate his guts]. Freddie Prinze Jr.'s character Owen is an aspiring filmmaker who gets a good opportunity to make some minor connections when his short film is nominated in a film festival in Kansas. Owen wants to share this experience with his fiance before he screws things up with her. Owen invites Ray to go with him to the film festival and Ray takes this as an opportunity to have some fun and act like a big shot. Ray is the type of friend who constantly gets you into trouble; this leads to a showdown between him and Owen which makes them question why they were ever friends to begin with. At this turning point they take steps toward making changes in their lives [That's all I'll say without ruining the ending]. Overall this is a compelling independent film with good performances and a realistic ending.
Chosen 718
Super Reviewer
½
A smart, compelling and wickedly enteraining movie. A brilliant, sharp, very funny and very moving drama that shows sheer realism in the lives and emotions of these characters. A great mix of comedy in drama that actually blend in well together. Freddie rince Jr. and Chris Klein are outstanding, giving honest, enduring and flat-out wonderful performances that truly shine. A wonderful film from the begining to it's very powerful and realising conclusion.
New York City Serenade Quotes
There are no approved quotes yet for this movie.