Nobody Else But You
(2012)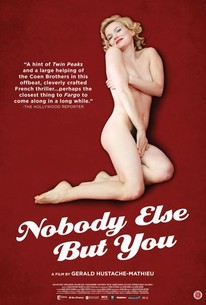 Nobody Else But You Photos
Movie Info
Rousseau is a bestselling crime novelist from Paris, troubled by writer's block. Candice Lecoeur is a local beauty, gracing the famous "Belle de Jura" cheese packaging, who has gotten it into her head that she might well be the reincarnation of Marilyn Monroe. The two will meet in the coldest village in France, but only after Candice has been found dead. The case was closed before it even opened and the cause of death declared suicide by sleeping pills. Rousseau is the only one who doesn't buy it. Reality turns out to be stranger than fiction - and a source of inspiration - as Rousseau uncovers the truth about Candice's past and her untimely death. Boasting strong lead performances and gorgeous wintertime landscapes, this off-beat mystery breathes fresh life into the thriller genre. -- (C) First Run Features
News & Interviews for Nobody Else But You
Critic Reviews for Nobody Else But You
Audience Reviews for Nobody Else But You
½
When David Rousseau(Jean-Paul Rouve), a writer, travels several hundred kilometers to a small town for a wealthy relative's funeral, he is disappointed to learn that the only thing he will be inheriting is the family dog which is in fact quite dead and stuffed. What he does get is inspiration when the body of Candice Lecoeur(Sophie Quinton), a local cheese spokesmodel and weather person, is found in the snow, a presumed suicide. But Rousseau senses foul play, even though the authorities say otherwise. His investigations bring him to Dr. Juliette Geminy(Arsinee Khanjian), Candice's psychiatrist, who after some pressure reveals that Candice had dreams of being Marilyn Monroe in a previous life. With more than its share of homages and references to the past, "Nobody Else but You" is definitely a movie like they just don't make anymore, that of a shaggy detective in a beatup car running down a mystery in engagingly offbeat fashion. Castle notwithstanding, I usually don't like writers as protagonists but here it works well as I like Rousseau. Plus, the movie gets more sympathy for Marilyn Monroe than any more direct or saner approach would do, even if the movie spells things out a little too forcefully.(And it's a nice touch that somebody says that Candice reminds him of Ann Baxter.) But while the mystery's resolution is lacking, the movie does end on a perfectly bittersweet note.
½
Interesting plot, some good ideas, and some good acting, but the whole thing ended up being less than the sum of its parts. With more skillful direction it could have been a good movie. Ultimately, I ended up not being drawn in completely. A decent attempt, though, I must say.
Cynthia S.
Super Reviewer
In a snow-drenched town, mystery writer investigates the death of a woman whose life mirrors that of Marilyn Monroe. A mixture of Fargo and Twin Peaks, this film takes a long time to unfold; in fact there aren't any clues to the mystery until about forty minutes into the action. However, once the film picks up speed, it is quite compelling. Sophie Quinton plays Candice Lecoeur like the reincarnation of Marilyn Monroe that the script calls for: she's troubled and lonely and without an independent identity, but her grace and charm make her eminently desirable. By the end of the film, the tragedy of a woman who gets filled up with desires other than her own rings poignantly. The film's character development of David Rousseau is abysmal. What is his damage? What are his motivations? What about Candice connects to him? These questions are essential, but the film remains silent. Overall, at the end of the film, I like it enough to try to forget the beginning.
Jim Hunter
Super Reviewer
Nobody Else But You Quotes
There are no approved quotes yet for this movie.