Ocean Heaven (Haiyang tiantang)
(2010)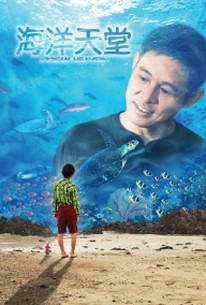 AUDIENCE SCORE
Critic Consensus: No consensus yet.
Movie Info
A single father with terminal cancer prepares to face death, and struggles to ensure that his autistic son will be well cared for after he is gone in this emotionally-charged family drama starring Jet Li. David was only seven when his mother died. Now, at 22, he still doesn't seem to register that she is never coming home. His father Sam (Li) works at an aquarium. With the help of their benevolent neighbors, David has managed to give his son a good life. But now Sam is dying, and soon David will be all alone. As his condition rapidly deteriorates, Sam attempts to provide David with the tools and lessons he will need to function independently in society. ~ Jason Buchanan, Rovi
Critic Reviews for Ocean Heaven (Haiyang tiantang)
There are no critic reviews yet for Ocean Heaven (Haiyang tiantang). Keep checking Rotten Tomatoes for updates!
Audience Reviews for Ocean Heaven (Haiyang tiantang)
This film discussed autism in China and shows how a father struggles to deal with his son's autism whilst also battling demons of his own. What was refreshing the most was seeing Jet Li portray a serious role with no martial arts involved at all. Heartwarming and touching in places. Highly recommended!
Ian Walker
Super Reviewer
½
This film had the potential to be a melodramatic and overly sentimental affair. What with dealing with a terminally ill father trying to ensure his autistic son can take care of himself after he dies. It does still have its sentimental moments, but the film, for the most part, is a sweet and gentle examination on what a father must do to take care of his son. The acting is more than solid with Jet Li turning in an understated performance. He does a good job at portraying a father's worries and frustrations without ever explicitly saying so. The guy who played the son also did a good job, though there was something I didn't like about it. Can't put my finger on exactly what it is, but it's not really an issue, as the story is still strong. The cinematography is downright gorgeous at times, at least the underwater stuff, there was a grace and beauty to it. Perhaps to show what it meant to Dafu and how he saw this as, as corny as it sounds, his little slice of heaven. It's a good contrast to the sensitive direction given to the rest of the film. That's about it really, a film about a very sensitive subject done with intelligence and heart. Still has some melodrama, but it's never a detriment to the entire film.
Jesse Ortega
Super Reviewer
½
The marketing for this movie went into overdrive with its touting of this being action star Jet Li's first dramatic role. Unless you count his appearance in a non combative role in Founding of a Republic and the various attempts to balance his action status with more dramatic acting chops such as Danny the Dog, then Ocean Heaven will be that maiden effort. Written and directed by Xue Xiao Lu, this modest effort is by no means small in ambition, having the likes of Jay Chou and Kwai Lun Mei lend their vocals to separate title tracks (with Kwai Lun Mei also starring in the movie), as well as being lensed by the renowned Christopher Doyle. Both Jet Li and Wen Zhang share great chemistry, which helps make their individual performance credible. Xue Xiao Lu also spends considerable screen time in outlining the father-son relationship, albeit that it's not quite the norm because communication almost always seem like a one way street and through many scenes, Xue Xiao Lu has allowed for an awareness of autism to ring through without resorting to over-reliance on melodrama to do so. I won't say this is a tearjerker, but there will be those who will inevitably be touched by Father's love, going by the amount of sniffles in the cinema hall.
Steven Vincent Gee
Super Reviewer
Ocean Heaven (Haiyang tiantang) Quotes
There are no approved quotes yet for this movie.