Once Upon a Time in China
(2001)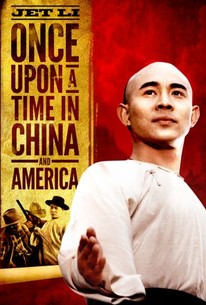 Once Upon a Time in China Photos
Movie Info
Though generally unknown to Western audiences, Tsui Hark is considered a giant among Asian filmmakers and this exceptional epic, combining hard-hitting martial-arts action with romance, comedy, history, genuine poignance, and sharp insight into the effects of the century-long encroachment of Western civilization in Asia more than amply demonstrates why. The story centers on the exploits of Master Wong Fei-hung (a familiar figure in Hong Kong cinema) a 19th-century doctor, Confucian, and exceptional martial artist. As the film begins, he has just opened a new clinic in Canton Province. To help him with patients, he hires a few apprentices including Porky Lang (the comic relief) and Buck Teeth Sol, who was raised outside China and barely can speak the language. Wong is platonically involved with the lovely, worldly Aunt Yee, who has been abroad most of her life. Wong soon gets in trouble when he begins using his skills to protect and assist the poor and helpless in his community. As a result, someone torches his clinic, forcing Wong and his compadres to set off and get spectacularly staged revenge. They also try vainly to stop Western culture from changing traditional Chinese ways, but they soon find that they may as well be shoveling sand against a rising tide.
News & Interviews for Once Upon a Time in China
Critic Reviews for Once Upon a Time in China
Audience Reviews for Once Upon a Time in China
½
[img]http://images.rottentomatoes.com/images/user/icons/icon14.gif[/img]
Directors Cat
Super Reviewer
½
The iconic theme song of this Wong Fei Hung trilogy defined "heroic" for my generation of Chinese kids. Revisited this childhood staple with my family on New Year's Eve. With the comedy, nonstop action, romance and stirring story of overcoming oppression, this is another all-in-one Hong Kong miracle product from Tsui Hark. Jet Li looked great in this film, that face is just so righteous. And you get to see him in a 3-piece suit at the end! The dialogue was beautiful and rousingly poetic, that's something non-Chinese speaking audiences will lose. The common saying "Ren yi shi feng ping lang jing, tui yi bu hai kuo tian kong" translates to: "Bear it for a while to calm the wind and still the waves, retreat a step to broaden the sea and clear the sky" explains why the Chinese people often swallow their pride to avoid confrontation for the 'greater good'. Until the red-blooded, patriotic Doctor Wong Fei Hung comes along and yells at China to wake up and stand up to their Manchurian and foreign conquerors, to bleed for their motherland. The film is a bit too long at 2+ hours. It won't bore you, but you have to go into it prepared for a LotR-type epic.
Letitia Lew
Super Reviewer
½
While I am still getting used to Hong Kong films, this was a surprisingly good critique of western civilization and the chaos that it breeds. Hark finds clever ways to show how the eastern spirit has been drowned out by the sounds modernity. Also, not being an action fan, I was oddly really enraptured by the Kung fu.
Once Upon a Time in China Quotes
There are no approved quotes yet for this movie.