Orphée (Orpheus)
(1950)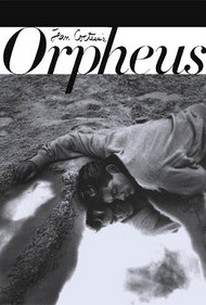 TOMATOMETER
AUDIENCE SCORE
Critic Consensus: Heavy with symbolism and deliberately paced, Orpheus may not be for everyone -- but as an example of Jean Cocteau's eccentric genius, it's all but impossible not to recommend.
Movie Info
Cinematic poet Jean Cocteau explored the myth of Orpheus on no fewer than three occasions: Le Sang d'Un Poete (Blood of a Poet, 1930), Orphee (Orpheus, 1949) and Le Testament d'Orphee (1960). This second of his "Orpheus" trilogy stars Jean Marais in the title role. Updated to contemporary Paris (albeit a Paris never seen before or since), the story concerns a sensitive young poet named Orpheus, who is married to the lovely Eurydice (Marie Dea). Orpheus' friend Cegeste (Edouard Dermit) is killed in a traffic accident. In the hospital morgue, Cegeste's patroness, The Princess of Death (Maria Casares), revives the young man; then, both Cegeste and Princess pass into the Underworld. Back on earth, Orpheus receives cryptic messages from Cegeste's spirit, as well as nocturnal visitations from the Princess. Meanwhile, Orpheus' wife enters into an affair with Heurtebise (Francois Perier). After seeking advice on her mixed-up love life, Eurydice is herself struck down and killed by the same cyclist who snuffed out Cegeste's life. It appears to Heurtebise that the ghostly Princess has claimed Eurydice so that she, the Princess, can be free to love Orpheus. Heurtebise persuades Orpheus to accompany him into the Underworld in hopes of returning Eurydice to life. By now, however, Orpheus cares little for his wife; he is completely under the Princess' spell. Offered her own liberation from the Underworld by the powers-that-be, the Princess dolefullly agrees to restore Eurydice to life, and to never have anything to do with Orpheus again. Orpheus has weathered much controversy to take its place among the director's most acclaimed works. Originally released at 112 minutes, the film was whittled down to 95 minutes for its American release. ~ Hal Erickson, Rovi
Critic Reviews for Orphée (Orpheus)
Audience Reviews for Orphée (Orpheus)
a modern (or at least 50s paris) retelling with beautifully simple effects; almost as magical as la belle et la bete. wonderfully poetic dialogue. gotta love the death bikers :p i read cocteau wanted garbo or dietrich for casares' part. that's fun to imagine.
Stella Dallas
Super Reviewer
½
A modern retelling of the Greek myth of Orpheus and Eurydice. Eurydice dies and Orpheus goes to the underworld to bring her back, with the understanding that he can never look at her. I heard raves about this and was excited about seeing it, especially knowing that director Jean Cocteau had directed the magical, brilliant La Belle et La Bete. But I was profoundly disappointed in this. Yes, the effects were interesting, but La Belle did them SO much better. The underworld, instead of seeming ominous and threatening, just seemed to be a dark street in a bad neighborhood. And finally, I just didn't buy that these characters had a love that transcended death itself. Vastly overrated. But maybe I'm just missing something.
Another stunning work of art by a true artist
Orphée (Orpheus) Quotes
There are no approved quotes yet for this movie.