The Other Side of Sunday (Søndagsengler)
(1997)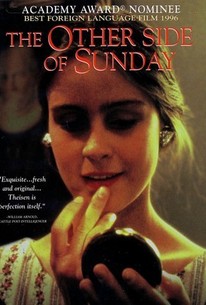 AUDIENCE SCORE
Critic Consensus: No consensus yet.
The Other Side of Sunday (Søndagsengler) Photos
Movie Info
Set in Norway during the 1950s, this dark comedy chronicles the coming-of-age of a rebellious daughter of a rural priest who was born and raised in a repressive tiny village. The problem is that moody Maria is terribly aware of her burgeoning sexuality. At times not succumbing to the insistent thrumming of her adolescent hormones makes life unbearable. Her only balm comes from lonely walks and her secret readings of the racy parts of the Song of Solomon in the Old Testament. The other kids sense the change in her and she's the butt of many unkind jokes and comments. One day while strolling alone through the forest, Maria encounters the church caretaker Mrs. Tunheim. Surprisingly, it is she who encourages Maria to test her sexual wings and savor life as it was meant to be enjoyed. But that for the reclusive Maria is easier said than done. ~ Sandra Brennan, Rovi
Critic Reviews for The Other Side of Sunday (Søndagsengler)
Audience Reviews for The Other Side of Sunday (Søndagsengler)
½
[font=Century Gothic]If it was not hard enough being a teenager growing up in the 1950's, in "The Other Side of Sunday," Maria(Marie Theisen) has the added ordeal of her father(Bjorn Sundquist) being the local priest, leading an especially joyless and repressed household where piano playing is banned on Sundays and Maria is scheduled for private lessons after a slightly less than perfect report card.(Oh yeah. No farting at the kitchen table.) While preparing for her upcoming confirmation, Maria's one of source of happiness is her crush on Mrs. Tunheim(Hildegun Riise), a rectory worker...[/font] [font=Century Gothic][/font] [font=Century Gothic]"The Other Side of Sunday" is an enjoyable coming of age movie that would be routine if not for its religious themes. As Maria is growing up, she is starting to think for herself, especially concerning religious dogma which she is starting to find a little silly, in the process overcoming the state of ignorance she had been kept in. All of which is represented by the rite of confirmation which officially is a way for a person to become a full member of the church while at the same time becoming an adult in a secular fashion.(My first quarrels with religion also happened around my confirmation.)[/font]
The Other Side of Sunday (Søndagsengler) Quotes
There are no approved quotes yet for this movie.